Dua Lipa - 'One Dance' (Live At The Jingle Bell Ball 2016)
4 December 2016, 00:38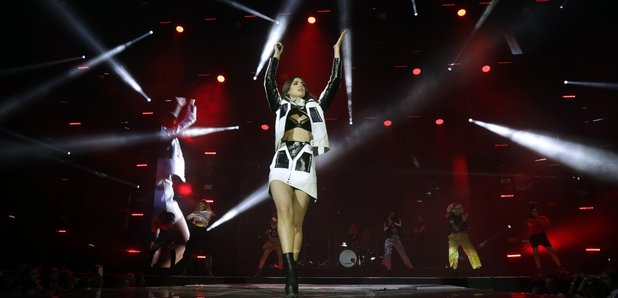 Many people do cover versions of tracks, but we can't think of many better than this piece of music brilliance!
Dua Lipa took to the stage at Capital's Jingle Bell Ball with Coca-Cola and amazed the crowd with her super vocals and strong stage presence.
The fast rising star has had a blistering year, but this performance on London's O2 Arena stage really topped off the whole year for Dua. 'One Dance' has been one of 2016's biggest tracks and this Dua Lipa update is a must hear!
We're sure that Drake will be as impressed hearing this cover of his song at the #CapitalJBB as we were – just imagine if these two actually did a song together!? It'd be pure magic!
You can relive Dua's amazing #CapitalJBB performance by clicking play on the video below – prepare to be seriously impressed!
As well as her cover of Drake's smash hit 'One Dance, Dua Lipa played a few of her own massive tracks and made sure her first #CapitalJBB performance was one to remember.
Dua Lipa – Jingle Bell Ball 2016 Setlist
'Blow Your Mind' (Mwah)
'One Dance' (Drake cover)
'Hotter Than Hell'
Drake 'One Dance (Dua Lipa Cover)' Lyrics
Baby I like your style
Grips on your legs
Front way, back way
You know that I don't play
Streets not safe
But I never run away
Even when I'm away
OT, OT is never much love when we go OT
I pray to make it back in one piece
I pray, I pray
That's why I need a one dance
Got the Hennessy in my hand
One more time 'fore I go
I have powers taking a hold on me
I need a one dance
Got the Hennessy in my hand
One more time 'fore I go
I have powers taking a hold on me
Baby I like your style
Strength and guidance
All that I'm wishing for my friends
Nobody makes it from my ends
I had to bust up the silence
You know you gotta stick by me
Soon as you see the text, reply me
I don't wanna spend time fighting
We've got no time
And that's why I need a one dance
Got the Hennessy in my hand
One more time 'fore I go
I have powers taking a hold on me
I need a one dance
Got the Hennessy in my hand
One more time 'fore I go
I have powers taking a hold on me
I need to know where do you wanna go
Cause if you're down, I'll take it slow
Make you lose control
Where, where, where
Cause if you're down
I need a one dance
Got the Hennessy in my hand
One more time 'fore I go
I have powers taking a hold on me
I need a one dance
Got the Hennessy in my hand
One more time 'fore I go
I have powers taking a hold on me