Is This A Leaked Snippet Of Dua Lipa & Ariana Grande Collab 'Bad To You'?
9 April 2018, 11:58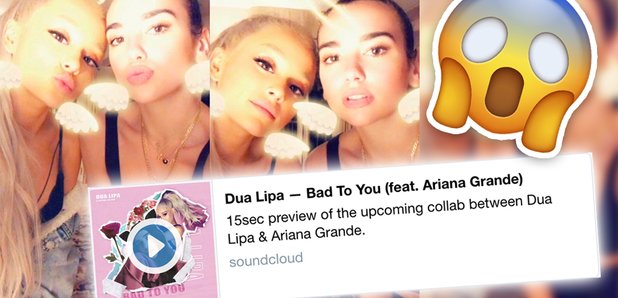 A 15-second clip has been posted online that sounds a lot like a new Dua and Ariana track!
Rumours of a potential collab between the two queens came about in January when Dua Lipa posted a photo of her and Ariana Grande hanging out on Instagram.
Fans immediately started speculating that the pair were busy working on bringing us the year's hottest collaboration.
> Who Has The Most Iconic Instagram - Dua Lipa Or Her Sister, Rina?
Well, now a short clip is doing the rounds on social media that's apparently a leaked snippet from a Dua and Ariana track called 'Bad To You'.
Here's the 'Bad To You' snippet lyrics...
[Dua Lipa]
Tell me why,
Are you only good to me,
When I'm bad to you.
(Why are you only)
[Ariana Grande]
Stopped thinking like a victim,
(Climbed out my body bag, I'm on the attack)
Got you...
Whilst the vocals certainly sound like the singers, there's been no official confirmation just yet.
Dua and Ariana are both currently working on new albums, with Ari rumoured to be releasing her new music in the next few months.
Could a 'Dua-et' be on the cards? We're totally here for it!
> Get news of new tunes from Ariana and Dua first, download our app!
Check out the incredible moment Dua worked her own merch stand...