This Video Of Travis Scott Falling Down A Hole On Stage At Drake's UK Show Is Everything
2 February 2017, 12:29 | Updated: 2 February 2017, 12:39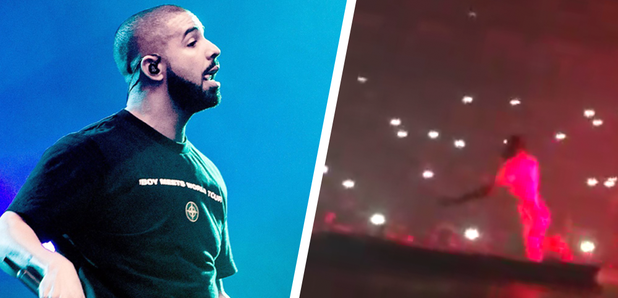 Luckily he didn't injure himself!
So let's set the scene.
Drake is performing at London's O2 Arena as part of his Boy Meets World Tour and the crowd are absolutely loving it.
He brings out fellow rapper Travis Scott to perform his huge track 'Goosebumps' and everyone goes crazy!
But sadly for Travis, things didn't exactly go as planned as he managed to fall into a huge trap door that had been opened as part of Drake's staging...
Luckily for the rapper, he didn't injure himself and Drake quickly rushed over to help his buddy out of the hole he'd gotten himself into.
The pair then continued their performance as though nothing had happened in a truly professional way, but of course with the amount of phones recording every second of the set, they couldn't escape it for long.
But because Travis' fall damaged part of Drake's set, the Canadian star claimed towards the end of his show that he was going to refund everyone's tickets as they didn't get the full experience. That was despite him performing all his tracks and bringing out the likes of Travis Scott, Young Thug, Giggs and Section Boys.
What a lad!
People quickly took to social media to share their views on the whole thing (excuse the pun)...
travis scott really fell in a hole and cost drake at least a million dollars. heck of a wednesday

— Enrique (@enricake) February 2, 2017
Loool how can a big man like Travis Scott fall over ! pic.twitter.com/WvX5SzpIlX

— Somebody. (@Oddisnormal) February 2, 2017
travis scott fell thru a hole on stage that made my day can't lie

— nancy drew (@pengistani) February 2, 2017
when @Drake brings out travis Scott, section boys, young thug AND giggs then refunds the show cause one piece of set didn't work DEAD

— molly payne (@mollsp_) February 2, 2017
But we've just had the video on repeat all morning.
Don't worry about it too much Travis, it can happen to anyone - even Justin Bieber, remember?
LMFAO Justin Bieber fell down from the stage pic.twitter.com/Wumx2l1g6v

— Afrikan Ninja (@AfrikanNinja) August 11, 2016
You may also like...