Cheryl Celebrated 15 Years Of Girls Aloud But Fans Think She Shaded Sarah & Nadine
30 November 2017, 16:26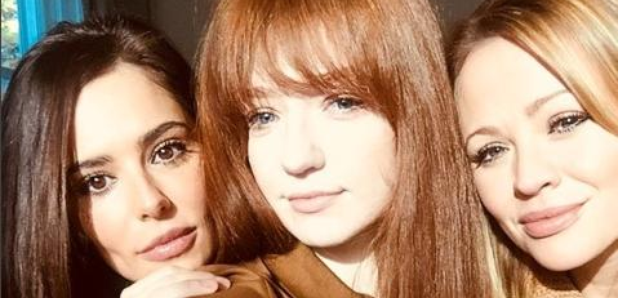 Cheryl posted a photo of herself with half of her former band on Instagram.
We can barely believe it's been fifteen years since Girls Aloud started and filled our lives with HUGE pop hits, but fans noticed something a little odd about Cheryl's tribute to her former band on Instagram.
Cheryl posted a photo of herself with Nicola Roberts and Kimberley Walsh without the other two members of the band, captioned, "Sitting here drinking coffee with these two and watching babies 15 years later !!! Crazy how time flies... 15 years ago today some of the best, craziest years of my life were just beginning.
"I had no idea what a life journey I was starting out on. We had some of the most amazing times of our lives and made some incredible pop moments to put the cherry on top.. In the end I left with these two amazing, inspiring gorgeous souls and the best friends anyone could ever ask for.
"You blessed me and I will never be able to thank you enough for the support, love and loyalty you brought to our group. I am so proud of what we achieved together. Love you all @lilcola @kimberleywalshofficial @nadinecoyle @sarahnicoleharding 
Thank you #Girlsaloud15"
While the message was very sweet, fans were quick to pick up on the fact that Cheryl mentioned just TWO best friends, and didn't put up a photo including Sarah Harding and Nadine Coyle.
Fans took to the comments to say, "Why would you bother tagging all the members of girls aloud in but only put a picture up of 3 of you? #OhTheShade".
Another added, "Cuties. Hey! What about a five-piece photo?", while most were just reminiscing about their fond GA memories.
Reading Cheryl's post about Girls Aloud 15th anniversary and she just couldn't not be petty for 5 minutes could she? pic.twitter.com/Y7jkVlPJAp

— Willoughby. (@BethWills_) November 30, 2017
nicola, cheryl and kimberly wishing a happy 15th anniversary to girls aloud with a picture of them 3 but still tagging sarah and nadine pic.twitter.com/bYz3ugWQ3s

— gabriel (@loonavverrse) November 30, 2017
Cheryl, Nicola and Kimberley posting the same 3-out-of-5 member photo to celebrate the 15th anniversary of Girls Aloud. Cheryl thanking her "two best friends." We get it - you didn't care much for the other two. They still helped to make you who you are. #MeanGirlsAloud pic.twitter.com/sjKTjcxmTx

— Bradley Stern (@MuuMuse) November 30, 2017
I feel abit sad that Cheryl posted a thing about girls aloud on insta without the whole of girls aloud

— courtney (@courtspeacock) November 30, 2017
Posts like this only serve to make me feel more sad about the fact that the latter years of Girls Aloud were about two camps: Cheryl, Kimberley and Nicola vs Nadine and Sarah. I know that in real life, this is how friendships work, but it's still sad. https://t.co/FEj2wRAk48

— DMac™ (@waronfacades) November 30, 2017
Lmao at Kimberley & Cheryl celebrating 15 years of Girls Aloud. Tagging all the girls but then only posting a pic of the 3 of them pic.twitter.com/Xnpi3AJzVg

— Meera (@Meera8r) November 30, 2017
Here's hoping we do get that reunion one day… not just a three-piece one!