Happy 31st Birthday Cheryl Cole! Check Out The Best Celeb And Fan Messages On Twitter
30 June 2014, 12:23 | Updated: 30 June 2014, 14:29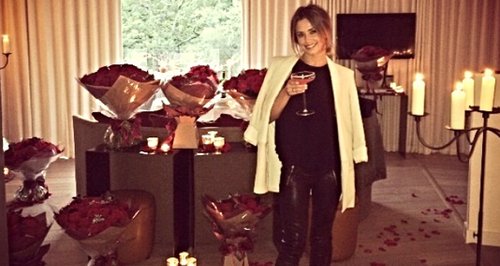 We can barely believe that our favourite Geordie lass, Cheryl Cole, has turned 31 today! Here's our pick of the best celeb and fan messages from Twitter.
It is singer, X Factor judge and general bundle of sunny Geordie loveliness, Cheryl Cole's 31st birthday today - and her celeb pals and #soldiers alike have taken to twitter to pass on their good wishes to our Cheryl.
Cheryl's cake looks INCREDIBLE! Cheryl posted, "Red velvet Rose decorated Birthday cake #AllRoserrrything #Bestbirthdayeverthank you for your messages"
Cheryl's not short on birthday flowers as she posted a snap of her surrounded by 310 red roses - someone went all out!
Cheryl's Girl's Aloud pal, Kimberley Walsh, posted this throwback picture from Cheryl's 21st!
Was this really 10 years ago??!!!!! Happy Birthday to my gorgeous friend @CherylCole hope you have a wonderful day pic.twitter.com/IoqYR2xiiX

— Kimberley Walsh (@KimberleyJWalsh) June 30, 2014
Cheryl's new X Factor pal, Sarah-Jane Crawford also passed on her birthday wishes.
Happy birthday going out to this stunning lady who I have the pleasure of working with this year @CherylCole x pic.twitter.com/o71vuNIvJS

— Sarah-Jane Crawford (@DJSarahJane) June 30, 2014
Laura Whitmore also tweeted Chezza - and dropped a cheeky plug for her show in too - sneaky!
Happy Birthday @cherylcole no better way to celebrate than by watchin MTV ASKS CHERYL with @thewhitmore TONIGHT 20.30 pic.twitter.com/tl0jamHmKC

— Laura Whitmore (@thewhitmore) June 30, 2014
And you #soldiers made Twitter pretty much explode with the hashtag #HappyBirthdayCheryl:
@CherylCole HAPPY BIRTHDAY CHERYL!!!!it's amazing how you don't look your age at all, how do you do it?!

— Fangirl (@DayumDemi_0820) June 30, 2014
Happy Birthday @CherylCole Hope you have the best day ever, you deserve it! xx #HappyBirthdayCheryl pic.twitter.com/VFaPtYEjp9

— Nikki Samantha King (@FashionxLover) June 30, 2014
@CherylCole HAPPY BIRTHDAY!!!! 31 now! Hope you have an amazing day! i love you so much you continue to inspire me every day,ily

— HAPPY BDAY CHERYL!!! (@SoldierBratSelG) June 30, 2014
Happy Birthday to one of the best people on the world!! @CherylCole We love you Cheryl no matter what <3

— SzandraMikaelson (@haris1995) June 30, 2014
Happy Birthday to the most beautiful and inspiring woman, @CherylCole. You deserve all the best. Thank you for everything. We love you <3

— CherylWorld.Com (@CherylWorldCom) June 30, 2014
Happy 31st birthday to one of my idols and inspirations. I love you @CherylCole #HappyBirthdayCheryl pic.twitter.com/MpVgcIN2gU

— Imogen Rowe (@icerowe) June 30, 2014
She's gone from a little girl who used to like trying to sharpen her fingers, to a beautiful independent woman#HappyBirthdayCheryl

— ~ Jessicaaaa ~ (@JessicaCherylX) June 30, 2014