WATCH: Roman Kemp Signed A Contract To Get Kane's Face Tattooed On Him If England Win The World Cup!
4 July 2018, 07:12
We wanted England to win the World Cup, but after Roman Kemp promised to get a tattoo of Harry Kane's face, we *really* want it to come home.
We don't know if you've heard, but... It's coming home. England have been smashing the 2018 World Cup in Russia, against the likes of Panama and Colombia, and football fever is taking over.
But nowhere more so than in the studio with Roman Kemp.
> Jason Derulo's 'Colours' Lyrics For The FIFA World Cup 2018 Are The Empowering Message You Needed Today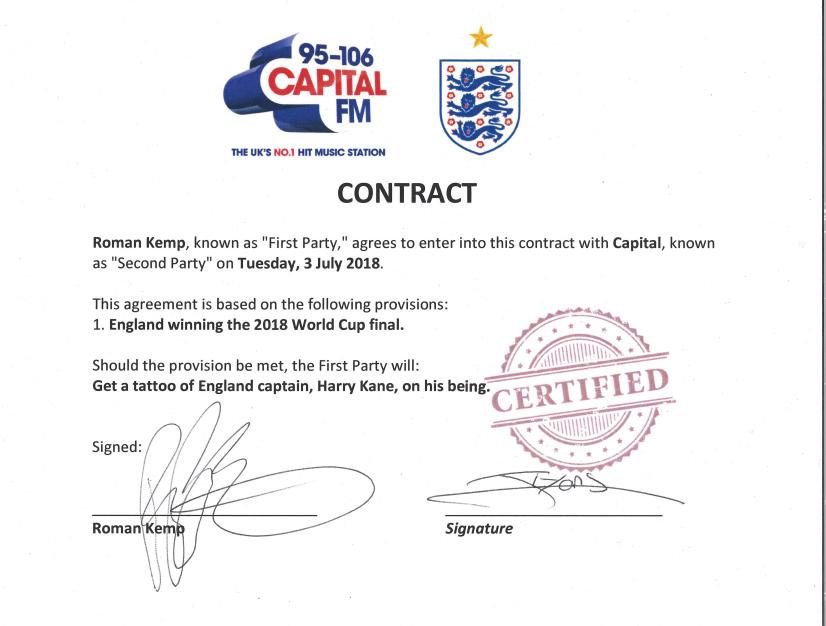 Dressed head-to-toe in his England kit, Ro promised that should the Three Lions walk away with the World Cup trophy, he will get an actual tattoo of Harry Kane's face on his body.
We weren't going to let him get away with it lightly; we penned a contract for him to sign, and we need you to witness this. Don't let Roman Kemp get away with this, because...
FOOTBALL'S COMING HOME!
> Grab Our App To Make Sure Roman Kemp Gets That Tattoo!