James Arthur Challenges Roman Kemp To A Game Of FIFA To Predict The England-Belgium Score
27 June 2018, 11:46 | Updated: 28 June 2018, 07:16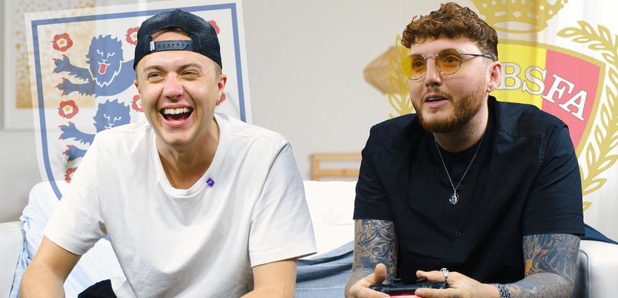 Roman Kemp's catching up with some of the world's biggest stars to predict England's journey in the World Cup. Fingers crossed it goes to plan...
We've waited a long, hard four years for this... No. We're not talking about the 1D reunion; we're talking about the 2018 World Cup.
Roman Kemp's fed up of hearing people mug off the England squad, so he rallied some of his mates - Jason Derulo, Aloe Blacc and James Arthur - to go head-to-head with him on FIFA to predict Harry Kane's lads' journey through the World Cup.
> WARNING: These Tinder Tips From Love Guru, Jason Derulo, Will Make You A Certified Pulling Machine
Matchday 1 of 3: Jason Derulo - Tunisia v England
Jason Derulo literally sang the anthem for the 2018 World Cup. How could he possibly lose a game of FIFA? Admitedly, he does call the sport "soccer", so that didn't fair too well for him.
Either Roman Kemp was taking advantage of the fact that Jason had never played FIFA before, or we can definitely rest assured knowing that England are going to thrash Tunisia.
Final score: 0-2
Matchday 2 of 3: Aloe Blacc - England v Panama
After England smashed it against Tunisia, it was only fair Roman Kemp brought in another mate, Aloe Blacc, to settle the next match. (And, of course, he picked another A-lister who's never played FIFA before. We see what you're doing here, Ro.)
If Ro's match is anything to go by, this World Cup is going to be a walk in the park for Southgate's boys. More importantly, can some actually lend Aloe Blacc a dollar, so he can afford a copy of FIFA, please?
Final score: 2-0
Matchday 3 of 3: James Arthur - England v Belgium
After taking to Wembley to perform at the #CapitalSTB, earlier this year, it seemed to be the next logical step for James Arthur to take on football's next biggest arena - the World Cup.
That just so happened to be pretty unfortunate for both Roman Kemp and the England squad, after James banged goal-after-goal, and just annihilated us. (So far, not one of Ro's predictions have been accurate yet, so here's to hoping this is wrong, and England smash it.)
Final score: 0-2