Zedd & Hailee Steinfeld - 'Starving' (Live At The Summertime Ball 2017)
11 June 2017, 18:46
Zedd brought the vibes and Hailee Steinfeld brought ALL the vocals in this iconic live performance of 'Starving' at the #CapitalSTB!
Imagine if we'd had Zedd performing a stellar set at this year's #CapitalSTB and not brought Hailee Steinfeld along to perform their HUGE tune 'Starving' too? It just wouldn't be right would it?
'Starving' is a modern pop anthem and the way the crowd erupted when Hailee Steinfeld surprised everyone by appearing on stage proved just how much it's loved by all! Vocally, Hailee is an epic talent and her on point voice during this live set was a joy to behold.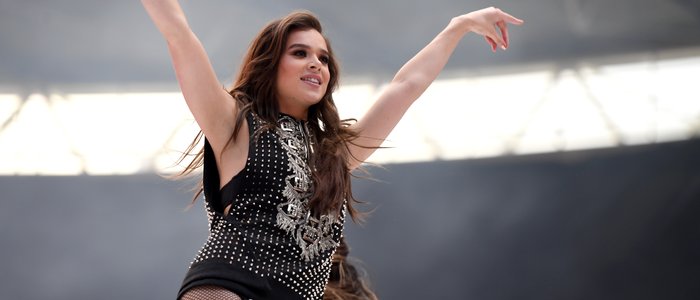 It was the first time that either Zedd or Hailee Steinfeld had ever performed at Wembley Stadium, so we can only imagine how they felt when they saw 80,000 people all singing along to their chart smash.
Weren't lucky enough to attend the ball? Never fear - you can catch up with Zedd and Hailee Steinfeld's super set with the video above. Not a bad way to make your #CapitalSTB debut!
Zedd – Summertime Ball 2017 Setlist
DJ Set
Starving (feat. Hailee Steinfeld)
Zedd & Hailee Steinfeld 'Starving' Lyrics
You know just what to say
Shit, that scares me, I should just walk away
But I can't move my feet
The more that I know you, the more I want to
Something inside me's changed
I was so much younger yesterday, oh
I didn't know that I was starving till I tasted you
Don't need no butterflies when you give me the whole damn zoo
By the way, by the way, you do things to my body
I didn't know that I was starving till I tasted you
By the way, by the way, you do things to my body
I didn't know that I was starving till I tasted you
You know just how to make my heart beat faster
Emotional earthquake, bring on disaster
You hit me head-on, got me weak in my knees
Yeah, something inside me's changed
I was so much younger yesterday, ye-eah
So much younger yesterday, oh, yeah
I didn't know that I was starving till I tasted you
Don't need no butterflies when you give me the whole damn zoo
By the way, by the way, you do things to my body
I didn't know that I was starving till I tasted you
By the way, by the way, you do things to my body
I didn't know that I was starving till I tasted you
You, yeah, till I tasted you
(I didn't know that I-I didn't know that I-till I tasted you)
By the way, by the way, you do things to my body
I didn't know that I was starving till I tasted you, ooh, ooh, ooh, ooh
Na-na-na-na
Na-na-na-na
The more that I know you, the more I want to
Something inside me's changed
I was so much younger yesterday