Zara Larsson's New Song 'Ruin My Life': Release Date And Music Video Revealed
24 September 2018, 14:04 | Updated: 23 October 2018, 10:40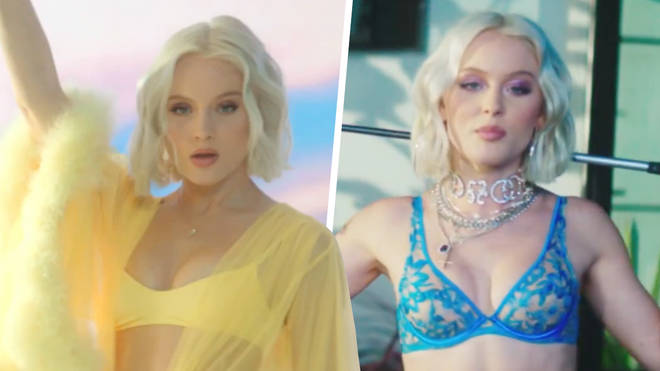 Zara Larsson has announced her brand new single, 'Ruin My Life', and we wanted all the tea on it - from when we'll be hearing it, to what happens in the video.
It's been over a year since Zara Larsson dropped her album, 'So Good', so we couldn't get over how good it was when she teased her latest single, 'Ruin My Life'.
If you're anything like us, you can't get enough of that bop. That's why we've got the answers to the questions you have.
> Zara Larsson Hits Out After Chris Brown Fans Slam Her Female Empowerment Post
What is Zara Larsson's latest song called?
The 'Lush Life' singer confirmed on Twitter that her next single is called 'Ruin My Life'. She shared her excitement to release it.
I have a date for the release of my single ruin my life and I can't wait to share it

— Zara Larsson (@zaralarsson) September 23, 2018
Earlier in the month, Zara teased her upcoming single, with the presumed lyrics "I want you to ruin my life..."
What happens in the music video to 'Ruin My Life'?
Zara Larsson dropped the music video for the first song from #ZL2, 'Ruin My Life', which sees her effortlessly throw mad shapes throughout.
It looks like Zara didn't come to play, as she begins by channeling her inner-Rihanna, strutting her stuff in a fluffy, yellow gown.
As she continues to sing "You set fire to my world, couldn't handle the heat. Now I'm sleeping alone and I'm starting to freeze", Zara continues to go through some insane costume changes, seeing her serve some dodgy looking spaghetti, and channel-surfing in her back garden.
It's not just our lives that Zara ruins, though, as she goes into a full-on dance routine, as she destroys the garden furniture and busts serious shapes.
> Grab Our App For All Of The Latest And Greatest Bangers!
What are the lyrics to 'Ruin My Life'?
According to various sources, the lyrics to Zara Larsson's 'Ruin My Life' are:
[Chorus]
I want you to ruin my life, you to ruin my life, you to ruin my life, yeah
I want you to f*** up my nights, yeah
F*** up my nights, yeah, all of my nights, yeah
I want you to bring it all up
And to make it all wrong and then make it all right, yeah
I want you to ruin my life, you to ruin my life, you to ruin my life
I want you to ruin my life, you to ruin my life, you to ruin my life, yeah
I want you to f*** up my nights, yeah
F*** up my nights, yeah, all of my nights, yeah
I want you to bring it all up
And to make it all wrong and then make it all right, yeah
I want you to ruin my life, you to ruin my life, you to ruin my life
[Bridge]
I miss you, I miss you
I wish you, I wish you
Would come back, would come back to me
Come back to me, come back to me
Oooh, oh yeah
[Chorus]
I want you to ruin my life, you to ruin my life, you to ruin my life, yeah
I want you to f*** up my nights, yeah
F*** up my nights, yeah, all of my nights, yeah
I want you to bring it all up
And to make it all wrong and then make it all right, yeah
I want you to ruin my life, you to ruin my life, you to ruin my life
I want you to ruin my life, you to ruin my life, you to ruin my life, yeah
I want you to f*** up my nights, yeah
F*** up my nights, yeah, all of my nights, yeah
I want you to bring it all up
And to make it all wrong and then make it all right, yeah
I want you to ruin my life, you to ruin my life, you to ruin my life
[Outro]
I want you to ruin my life, you to ruin my life, you to ruin my life, yeah
I want you to f*** up my nights, yeah
F*** up my nights, yeah, all of my nights, yeah
I want you to bring it all up
And to make it all wrong and then make it all right, yeah
I want you to ruin my life
Ruin my life, ruin my life