Union J Do Some TOP SECRET Filming For The #CapitalSTB And Tease Their New Song
17 June 2014, 10:50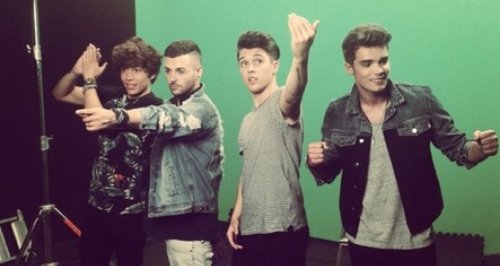 The boys have been getting in the mood for the Summertime Ball with a secret project.
Union J are just as hyped as we are about the Summertime Ball on Saturday (21st June) at Wembley Stadium – they've even been doing some top secret filming with us for the first live performance of their shiny new single. Exciting!
The boys have been hidden away in a green screen studio filming something pretty special for all the lucky #JCats who've managed to bag tickets to our BIGGEST, BALL... EVER – and George Shelley has been giving us a sneak peak via Snapchat.
While you'll have to wait until Saturday for the big reveal, (well, we can't give away ALL our secrets just yet…) the boys have been posting some teasers on their Twitter accounts – and they clearly can't wait to perform at the #CapitalSTB for the second year running.
As well as having the Summertime Ball to look forward to, Union J will also be revealing their new single this week.
Can't wait for you to see the bands performance at the @CapitalOfficial Summertime Ball this year! pic.twitter.com/uZT4ECV7t1

— Union J (@UnionJworld) June 16, 2014
The guys have been super-busy working on their second album in recent months, including a cheeky recording trip to LA - it's a hard life for some!
Photo Shoot time! All in preparation for #CapitalSTB pic.twitter.com/TkMdjSBhEl

— Union J (@UnionJworld) June 16, 2014
So far, they've revealed their new single begins with 'Tonight' but have yet to let the fans hear the track.
June 16, 2014
The boys have said that the new album has a very different feel to their self-titled debut album – and we can't wait to hear their latest offering.
Union J will be performing at the Capital Summertime Ball on Saturday 21st June, but if you've not managed to beg, steal or borrow a ticket, you can catch up with all the gossip from the day at Capitafm.com or on Twitter through @CapitalOfficial.