Union J Fly Onto The #CapitalSTB Stage To Debut Their New Song 'Tonight'
21 June 2014, 20:00 | Updated: 21 June 2014, 20:41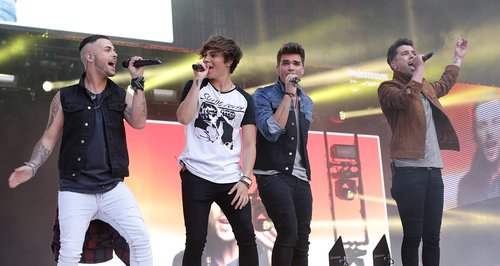 Is it a bird? Is it a plane? No, it's Union J flying onto the stage at Wembley Stadium for the first live performance of 'Tonight (We Live Forever)'.
Union J finally got their wish of flying on to the stage at the Capital Summertime Ball - and what better way to do it than in front of 80,000 people? The boys descended onto the stage like little chiseled-jawed angels from boy band heaven.
The #JCat screams are still reverberating around the stadium as George, Jaymi, Josh and JJ entered the #CapitalSTB to total hysteria. The boys performed their first single 'Carry You' and sent the crowd totally wild with their first ever live performance of their new single 'Tonight (We Live Forever)'. It was a fangirls dream!
80,000 hearts skipped a beat as the Union J hotties strutted around the golden circle, getting within grabbing distance. (We know, we tried). Jaymi Hensley also delighted the fans by getting his biceps and tattoos out - YUM.
OMFG OMFG OMFG UNION J!!!! #CapitalSTB @CapitalOfficial CARRY YOU

— OneDreamOneD (@fusionxrry) June 21, 2014
"We were here last year and it was the highlight of our year, and this year is already better," Union J told the crowd. "We love you Capital!"
Union J's set list was:
'Tonight (We Live Forever)'
'Carry You'
Casual backstage selfie from #CapitalSTB #UnionJForever http://t.co/0Bmd5kBwSL pic.twitter.com/vxl6jbU0FN

— Union J (@UnionJworld) June 21, 2014
Union J were VERY excited to perform for 80,000 people at the #CapitalSTB for the second year running. They tweeted before the event:
IT'S PLAYING NOW ON @CapitalOfficial! Just rehearsing for the ball now! Who's coming along? #UnionJTonight pic.twitter.com/KPVtRPDy1N

— Union J (@UnionJworld) June 19, 2014
BUZZING to perform our new single at #CapitalSTB! Ahh! Just rehearsing now! #UnionJTonight http://t.co/4LhogasqAg pic.twitter.com/DihSXMM9p3

— Union J (@UnionJworld) June 19, 2014
Can't wait for you to see the bands performance at the @CapitalOfficial Summertime Ball this year! pic.twitter.com/uZT4ECV7t1

— Union J (@UnionJworld) June 16, 2014
Photo Shoot time! All in preparation for #CapitalSTB pic.twitter.com/TkMdjSBhEl

— Union J (@UnionJworld) June 16, 2014
.@JaymiUJWorld getting ready for the @CapitalOfficial Summertime ball #CapitalSTB pic.twitter.com/CVf4wn2T41

— Union J (@UnionJworld) June 16, 2014
BEAUTIFUL DAY FOR A BALL!! x

— George Shelley (@georgeujworld) June 21, 2014
The #JCats could barely contain their excitement for the show at Wembley:
Watching/listening to the capital TV on sky waiting for summer time ball... UNION J! @UnionJworld @958capbreakfast

— K.D (@fabulouslyyolo) June 21, 2014
I'm so proud of union j that there playing at the summer time ball again tonight infront of 80,000 people and performing there new single

— (@slutforgosh) June 20, 2014
THE VAMPS AND 5SOS AND UNION J ARE CONFIRMED FOR SUMMER TIME BALL GIVE ME A SECOND TO BREATH OMFG

— Vamps Follow Updates (@vampspreeupdate) May 8, 2014