Kick-Ass 2's Chloe Grace Moretz Excited For Union J's Role In The Superhero Film - Audio
9 August 2013, 13:46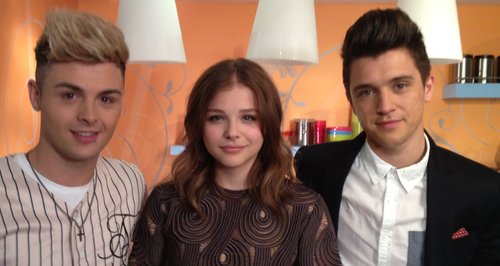 The teen actress says the film is a great opportunity to introduce America to the UK stars.
Kick-Ass 2 star Chloe Grace Moretz has praised Union J and their song 'Carry You', following their cameo role in the new superhero sequel.
The UK four-piece's debut hit single features on the soundtrack of the new film as well as the boys themselves getting a shout-out during one scene, and Chloe, who plays scene-stealer Hit-Girl says it was great to finally meet them this week.
"I actually just met them, I was on Daybreak and they were there and I was like, 'Hey guys!'," Chloe revealed exclusively to Capital this week. "I think George was the one that wasn't there but I met the other boys.
"Yeah their song's great in the movie, I think what's interesting is it's cool because they're a young group and I think in America they haven't hit it huge yet and it's going to be nice for people to see this movie in America because it's going to be the same thing like Hit-Girl, and people are going to be like, 'Who are these guys?'
"I think the song's great, I think it's a good song, I think it's a fun top 40 hit," Chloe added. "I think it's a fun dance along kind of [song]."
Check out a picture of Union J back in the recording studio this week below (Credit: Goff):
The film also stars Aaron Taylor-Johnson and Jim Carrey, and Union J also released a brand new music video to accompany the film's release.
Union J are now back in the recording studio working on new music and are set to head out on their 'Magazines & TV Screens' tour this December.
Listen to Chloe Grace Moretz chatting to Capital's showbiz reporter Kevin Hughes about Union J below:
Chloe Grace Moretz talks about Union J...