"Sometimes I Go On Stage With Food": Fuse ODG, Tinie Tempah & Aston Merrygold Reveal All
29 August 2015, 13:39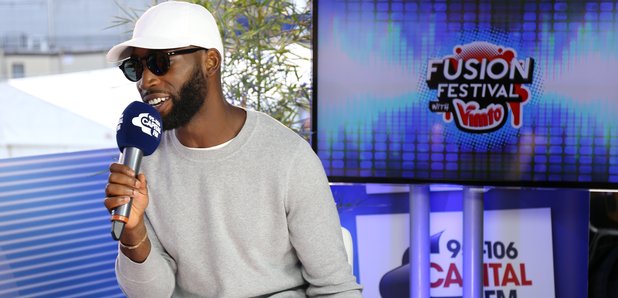 Find out which artist takes their roast dinner on stage with them as Fuse, Tinie and Aston play Capital's Question-a-balls.
Ever wondered which of your favourite stars can't choose between food and music or who would rather win the lottery than live forever? Wonder no more!
Aston Merrygold, Tinie Tempah and Fuse ODG joined Capital backstage at Fusion Festival with Vimto this weekend and took on the Question-a-balls challenge.
Day 1 was AMAZING! We spoke to Fuse ODG at Fusion Festival who was left almost speechless to one of life's hardest questions! For all things backstage at Fusion, check out the live blog - http://capitalfm.co/Fusion

Posted by Capital Breakfast Birmingham on Saturday, 29 August 2015
Delving deep into a bucket of silver balls full of difficult questions, we got an insight into the inner workings of their minds… and it's certainly an interesting place to be!
We got @astonmerrygold to have a go at our #QuestionABalls game yesterday... who was his first kiss? #FusionCapital https://amp.twimg.com/v/af40b125-7777-437e-87f2-ab16076386a4 …

— Rob and Katy (@robandkaty) August 29, 2015
As well as chatting to us, Tinie, Fuse and Aston put on stellar performances at the festival in Cofton Park in Birmingham - though we DIDN'T see anyone take a lasagne on stage with them this particular time…
.@tinietempah had a go on our our #QuestionABalls. Would he rather win the lottery or live forever? #FusionCapital https://amp.twimg.com/v/ac403a86-f5e9-4bcb-8a8c-91283dba1ff5 …

— Rob and Katy (@robandkaty) August 29, 2015