The Vamps - 'All Night' (Live At The Jingle Bell Ball 2016)
4 December 2016, 22:06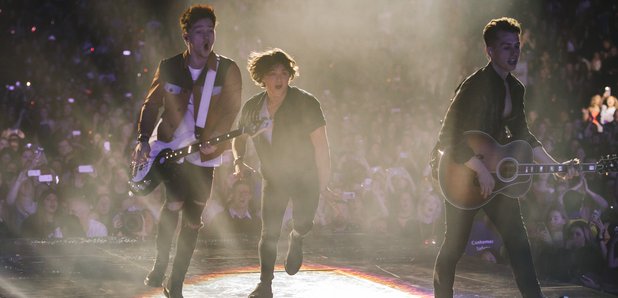 It's a whole different sound to what we're used to from these lads, but 'All Night' had the audience feeling it at the #CapitalJBB!
We never thought we'd hear 'The Vamps' and 'EDM' in the same sentence, but their team-up with producer Matoma brought a whole new world of excellence into our lives earlier this year – and they KILLED it at the #CapitalJBB!
Performing their latest single, the band proved exactly how versatile they can be as performers – and closed their set in epic, anthemic style!
The screams were deafening for Brad, James, Connor and Tris – and although it was the perfect end to their world-class set, you guys were screaming for more from The Vamps!
The Vamps – Jingle Bell Ball 2016 Setlist
'Can We Dance'
'Last Night'
'Somebody To You'
'Wake Up'
'All Night'
The Vamps – 'All Night' Lyrics:
I've been up all night
No sleep
'cause I feel like I'm always dreaming
All night
No sleep
'cause I feel like I'm always dreaming
'cause I feel like I'm always dreaming
Sometimes I tend to lose myself
When I'm out there on my own
I never seem to get it right
But I guess that's how it goes
Ever since you came out
Can't nobody hold me down
You showed me how to find myself
When I needed it the most
I've been up all night
No sleep
'cause I feel like I'm always dreaming
All night
No sleep
'cause I feel like I'm always dreaming
Wide awake
That's okay
As long as I'm with you
I'll be up all night
No sleep
'cause I feel like I'm always dreaming
'cause I feel like I'm always dreaming
I'll never go to find my way
If I don't learn to let go
The past is the past
Today is today
And there's things I can't control
There are circles underneath my eyes
Telling truth like I've been trying
I've been waiting for you, waited too long
Won't you come and take me home
Been playing this in all the dreams
Can you move
Wake me up before you leave
I've been up all night
No sleep
'cause I feel like I'm always dreaming
All night
No sleep
'cause I feel like I'm always dreaming
Wide awake
That's okay
As long as I'm with you
I'll be up all night
No sleep
'cause I feel like I'm always dreaming
As long as I'm with you
'cause I feel like I'm always dreaming
'cause I feel like I'm always dreaming