The Vamps On Looking Up To One Direction: "They Inspire Us With Their Music"
22 September 2013, 10:35 | Updated: 22 September 2013, 14:57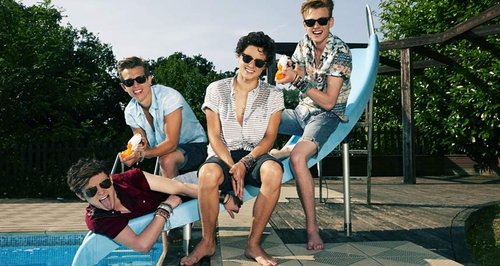 The 'Can We Dance' band say One Direction have played a big role in helping them get noticed.
The Vamps say they have been "inspired" by fellow boy band One Direction and have praised the 'Little Things' five-piece for being so hard-working.
The 'Can We Dance' four-piece are set to release their first single at the end of September, and say UK band One Direction have definitely been an inspiration for them.
"I mean, we covered a lot of their stuff early on, like a year ago, and we were lucky to get hits from their covers," singer Bradley Simpson revealed to ITN this week. "So I mean we've kind of built our fans through that, so it's great for us.
"They work really hard and deserve every success they get," drummer Tristan Evans added. "They inspire us with their music, like that type of music, and we like other types of music as well."
Earlier this week The Vamps opened up about getting to support Selena Gomez on tour recently, and revealed she even gave them a personal tour of her tour bus for the trip.
The Vamps release their debut single 'Can We Dance' on 29th September.