Stage Falls: 6 Moments The Stars Would Rather Forget
14 February 2014, 15:34 | Updated: 14 February 2014, 15:42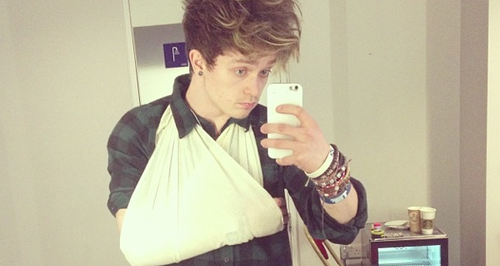 Watch what happens when popstars take their live performances that one step too far... literally!
In a week that saw The Vamps star Connor Ball fall off stage at London's O2 arena during a supporting set for Taylor Swift's UK tour, we take a look at some of 'those' live moments our favourites stars would probably rather forget.
1. First up, Lady Gaga falls off her piano during a Monster Ball Tour date in America back in 2011.
Lady Gaga is a BEAST! that women can fall on stage really bad&get up a few seconds later and still give a great performance. wow!

— #journals (@SpongieBieber) April 15, 2011
2. Next 'Lego House' singer Ed Sheeran takes a tumble on stage at a gig back in 2013.
that's not a fall, that's a full on face plant hahaha

— Samantha Edgar (@Sammie_Edgar) March 15, 2013
3. Pink injured herself after falling off stage during a performance of 'So What' at a gig in 2010.
@Pink, is everything ok? Heard there's video of your scary stage fall...

— Ening (@eningmeili) July 16, 2010
4. Here's Olly Murs taking it a step too far (literally), on stage during a festival appearance in Surrey. #SignedSealedDelivered
My idol tends to fall over on stage and split his trousers on numerous occasions, that is everybody... Olly Murs

— Just Smile (@lucymurs_) March 27, 2013
5. Justin Bieber loses a shoe during his live show resulting in him falling over in front of thousands of screaming fans.
6. And bringing it right back to now, The Vamps' guitarist Connor Ball oversteps the mark on stage at London's O2 arena during a support set for Taylor Swift's UK tour.
Sweet, no broken arm and got my wallet back, this day has turned into a good day! Need sleep now...

— Connor Ball (@TheVampsCon) February 11, 2014
Had no idea Connor fell off stage last night until I was at my mic. It was my scariest moment so far playing live. Love you con. #oblivious

— James McVey (@TheVampsJames) February 11, 2014

Let us know what you think of these stage falls below...