"We Were The Squits That Night!": The Script On 'Superheroes' Video And Dodgy Pranks
22 July 2014, 15:56 | Updated: 23 July 2014, 16:04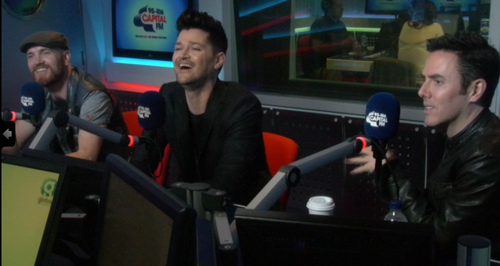 We grabbed The Script to tell us about the new single and video and what happens when pranks go very, VERY wrong…
Capital FM had the first play of The Script's new song 'Superheroes' on Monday morning (21st July), so we grabbed the boys to talk all things music and tour pranks.
Frontman Danny O'Donoghue told us, "The single is called 'Superheroes', it's a really positive song that we wrote for all the unsung heroes out in the world."
"We went to Johannesburg to shoot the video, there were about 200,000 people in the township and it's a pretty poor area. We went down and we set up a stage and basically this carnival atmosphere ensued."
"We had an amazing, amazing time. We spent a few days there and spent a lot of time with the people in the township, because they are our superheroes, people who are going through the hardest of times but can keep their head held high. That's basically what the song is about."
While they may have announced the lead track this week, the boys told us they are still working on the album. Danny said, "We're still finishing the album, there's still a song or two to go, so you're basically getting the music as we're getting it. As final mixes are coming in, you guys are hearing it as well, so it's really exciting."
And what else can we expect from the rest of the album? Mark Sheehan told us, "It's probably the first time we've ever had time to digest the album ourselves a little bit. We spent a year on this, every other record kind of only had six months, so everything has always been a little bit of a rush for us and this is the first time that we've got to lay back, take our time and put what we feel is the strongest album together."
"I think everyone can expect loads of energy, we recorded this album whilst moving around America on the road and the rest of the world on tour. So we have been living on a tour bus and we brought a studio recording system – basically the whole bus is a recording studio – and we recorded as much as we could."
As well as recording for their own album, the boys have been on tour with One Republic and will be rejoining them at the end of the month. Whenever you get that many men in one place, pranks are bound to ensue…
While The Script guys haven't got anything specific planned for One Republic, they told us they are going BIG on the end-of-tour pranks, with Danny claiming, "One of them is definitely going in to hospital!"
While they may be master pranksters, Glen Power admitted he once pranked himself by mistake!
He told us, " I pranked myself once, I took a whole bar of that laxative chocolate. It said take one and I presumed it was a strip so I took the whole strip, we were down at a festival, I'll never forget it, and I had to call the tour manager and say 'Get me something now!' I was literally three hours to stage."
We hope their tour manager had a better solution than Danny, who suggested, "Yeah, a plug! Just reach into the bath, get me the stopper!" Ermmm….
Glen added, "Genuinely I went online and looked it up and then I looked at the box and was like 'Oh my god' it said one little square. I'd presumed it was the whole thing! It was an interesting show, I've never wanted a gig to end as early in all my life. "
Mark added, "We were called The Squits that night!"
Well, I think we've all learnt not to accept chocolate from The Script, just in case…