The Script Talk Hair Cutting Parties And Getting Mistaken For Harry Styles!
4 November 2014, 15:40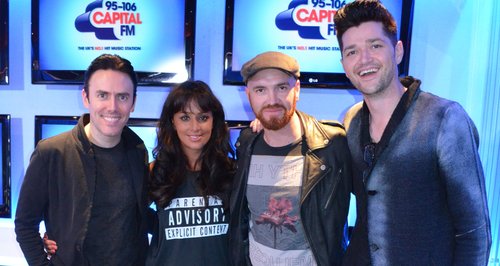 There are worst people you could get mistaken for than the One Direction heart throb!
When The Script came in to talk to Capital's Max, Danny O'Donoghue revealed an unfortunate case of mistaken identity when they performed with Taylor Swift at one of her gigs...
The Script's Hair Cutting Party With Taylor Swift
Danny revealed that Taylor had called them and asked if they wanted to join her on stage at a gig at the O2, and when the band joined her backstage, a blurry photo had the internet up in arms as they thought Danny was actually One Direction's Harry Styles! Eagle-eyed fans were freaking out as it happened around the time Taylor and Harry were meant to be feuding.
Danny revealed, "It was after that show and we were all backstage having a hair cutting party and I was beside Cara Delevingne. So we were all sitting there and we took a photograph on the couch, and it was kind of a blurry photograph that Taylor took and she posted it."
"The next morning we woke up and it was EVERYWHERE, and it was my fat head. How I got mistaken for him - I feel sorry for him. He must have woken up going 'Oh my God, they actually think I look like HIM?!'"
Catch the full interview on Max's show from 10pm tonight.
You May Also Like…