Take That Reveal When We Can Expect Their New Album 'III'!
10 October 2014, 10:40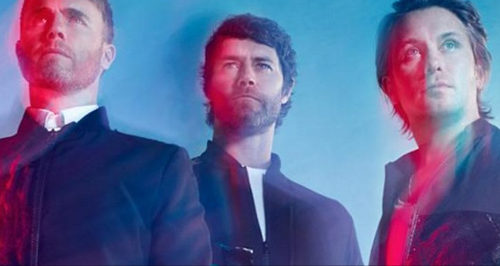 We're more than excited to have Take That back in our lives in their new incarnation as a three-piece – and there is an album coming soon too!
We shared the first play of Take That's new single 'These Days' on Capital this morning, and the boys revealed to Marvin Humes that there is an album coming VERY soon too!
Gary Barlow, Mark Owen and Howard Donald joined Marvin in the studio, where he quizzed them on how different it was working as a three-piece band.
Take That Reveal Their New Single To Marvin...
Gary revealed, "Do you know what, it's been alright. I mean we've known for a couple of years that Jason [Orange] hadn't made his mind up whether to be back in the band or not and so we said to him earlier this year, 'Listen, we want to make a record'."
"And we got his blessing to go ahead and start and so it's been one of those years, really, where we haven't had time to look up to see that there's only three of us. We've been working so hard and concentrating on the music and I feel like the music we've got is very, very strong and it marks this time right now, 2014. We're excited for people to hear it, we really are."
And while the new single alone is exciting enough, the boys also revealed to Marvin whether they have an album coming out too.
Howard told us, "There certainly is! The album is out in December and it's called 'Three' because it has three roman numerals so we call it 'iii'!"
Gary added, "Or a hundred and eleven."
But the guys revealed that there was a flaw with calling it a hundred and eleven…. The explained, "We were thinking that's almost our combined age but then we realized that actually our combined age is more than that!"
Shhh, don't go admitting your age, guys! You look GREAT for over a hundred and eleven years old!
The track listing for 'III' is:
These Days
Let In The Sun
If You Want It
Lovelife
Portrait
Higher Than Higher
I Like It
Give You My Love
Freeze
Into The Wild
Flaws
Get Ready For It
Believe (Deluxe edt)
Amazing (Deluxe edt)
Do It For All For Love (Deluxe edt)
'III' will be released on 1st December 2014.
You May Also Like…