Take That Close Day One Of The Jingle Bell Ball 2014... And We'll 'Never Forget' It!
6 December 2014, 22:40 | Updated: 9 December 2014, 11:23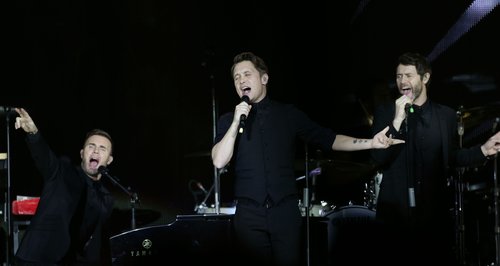 From 'Pray' to their newest single 'These Days' - EVERY hit the fans wanted was in there!
It was the final performance of day one of the Capital Jingle Bell Ball 2014 with Morrisons and expectations were SKY HIGH for Take That's closing set of the night. Luckily… they basically blew EVERYONE away!
Take That's opening number started with military-style dancers strutting their stuff across the stage backed by an orchestral number… before the familiar drum beat kicked in to signal 'Shine' was their first song of the night!
Before long the stage screen was raised and Mark Owen popped up, extending a hand to the 16,000 fans out in the crowd and singing the opening verse to the song.
Take That were looking SERIOUSLY slick for their closing #CapitalJBB set, decked out in black shirts, waist coasts and blazers. You scrub up VERY nicely, chaps!
Next up on the setlist was 'Greatest Day', with the band strutting out to the front of the stage to feel the full atmosphere of the amped up JBB crowd.
"Good evening O2!! Everybody feeling good? OK, right now we want to hear your voices," Gary told the crowd. "Are you ready to sing?"
'Patience' was next on Take That's setlist, harking back to the band's hugely successful reunion in 2006.
"I want to know what you've thought of all the amazing bands and artists you've seen tonight?" Gary asked, to a HUGE scream from the JBB goers. "Incredible… and they've been telling us all evening that you're the loudest crowd they've had, so please keep it up for us!"
"When the Jingle Bell Ball asked us to come and perform for you, we thought, there was one song we had to perform for you guys," Mark told the crowd. "And that is 'Back For Good'!
Next up was 'Pray' and the boys opted to crack out some VERY old school dance moves for a nifty little dance routine that got a LOT of whoops from the fans out in the stands.
The nineties were well and truly alive for this number, and Take That were clearly loving EVERY minute as they powered through the hit.
From 'Pray' the chaps took us RIGHT back up to modern day with a performance of their latest hit 'These Days', the first single from their newly launched album 'III'.
Take That showed no signs of letting up after this one as smoke filled the stage, the camera phones came out and the anthemic 'Rule The World' was next up on the agenda.
"We just want to say a massive thank you for your support to everyone in the audience. Unfortunately this one's our last one. Get your hands in the air… this is 'Never Forget'!
And just like that… Take That blew the ROOF off the O2 Arena, breaking into their signature hit song and getting 16,000 people to throw their hands up for the song's chorus - the ULTIMATE anthem!
Take That were VERY excited to take the stage for 16,000 of you lovely people at the Jingle Bell Ball, tweeting all day to get that crowd amped up and ready to pull some shapes:
Backstage at #CapitalJBB! M.O X pic.twitter.com/nXdGNCNafh

— Mark Owen (@OfficialMarkO) December 6, 2014
1 hour to go till we're on stage ! #jbb #o2

— Gary Barlow (@GaryBarlow) December 6, 2014
And the #CapitalJBB crowd definitely lapped up this mega-hit set from one of the UK's BIGGEST bands. Judging by some of these fan tweets it isn't a performance ANYONE will be forgetting anytime soon!
@CapitalOfficial jingle bell ball.. #take that... @HowardDonald @GaryBarlow .. I made it!! I got my Xmas wish thanks to my brother

— sally hooper (@shooperhair) December 6, 2014
Come @GaryBarlow @OfficialMarkO @HowardDonald we're ready & waiting for u!! #JBB excited!!

— Vicky Marshall (@musicmadmummy) December 6, 2014
@OfficialMarkO best opener shine!!!!! it u #CapitalJBB

— sarah ferris (@sarahferris1980) December 6, 2014
I just love Take That so much. Childhood never does

— Jess Team Europe (@lil_jessie_babe) December 6, 2014
I'm officially a fan of Take That's dancing

— Sina (@sesicama) December 6, 2014
TAKE THAT THO

— Hannah III (@POTUSGladiator) December 6, 2014
@takethat doing the actual dance routine to pray !!!! BEST NIGHT EVER !!!! #CapitalJBB #jingleball

— Katie (@KatieSeabourne) December 6, 2014
Check out Take That's full setlist from the Capital Jingle Bell Ball 2014 with Morrisons below: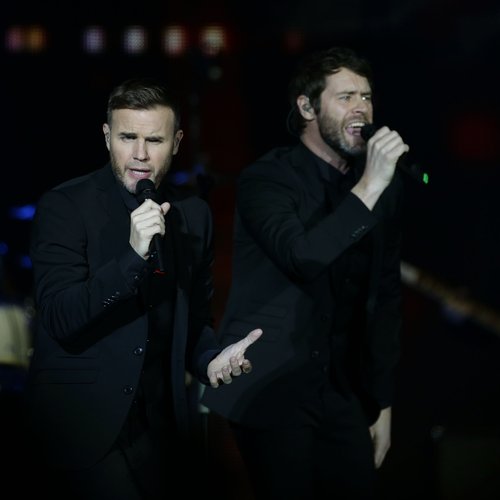 You may also like...