Stormzy - 'Big For Your Boots' (Live At The Summertime Ball 2017)
10 June 2017, 18:35
Bringing Grime to 80,000 fans at Wembley Stadium, Stormzy set the #CapitalSTB off with his energetic performance of 'Big For Your Boots'!
There haven't been many Grime MCs who have been lucky enough to perform at Wembley Stadium over the years, but Stormzy made sure his name will forever be on that list with a blistering set at the #CapitalSTB.
'Big For Your Boots' was the lead single from Stormzy's debut album 'Gang Signs & Prayer', and the energetic beat alone, produced by Sir Spyro, is enough to start a mosh pit in any venue it's played! When you add Stormzy's fearless live performance into the mix too, it's a recipe for some serious fireworks.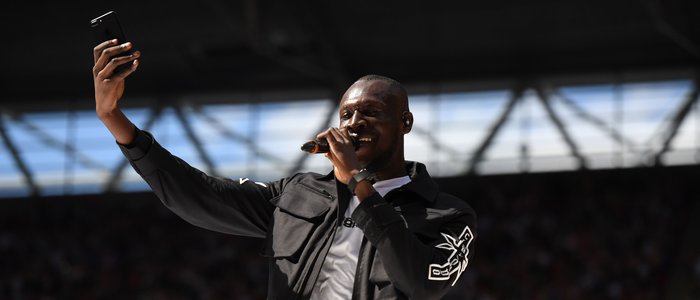 Having teamed up with Little Mix and Ed Sheeran recently, Stormzy will have been keen to prove that he is more than capable of going it alone on stage at the #CapitalSTB and with this spirited set, he will only have gained himself even more fans – great work Stormz!
Couldn't get to the ball this year? Luckily you can catch up with Stormzy's high-powered set by checking out the video above. Just don't get too big for your boots ok?!
Stormzy – Summertime Ball 2017 Setlist
Shut Up
Shape Of You
Big For Your Boots
Stormzy 'Big For Your Boots' Lyrics
You're getting way too big for your boots
You're never too big for the boot
I've got the big size twelves on my feet
Your face ain't big for my boot
Kick up the yout
Man know that I kick up the yout
Dem boy dere tried twist up the truth
How dare you twist up the truth, look
You're getting way too big for your boots
You're never too big for the boot
I've got the big size twelves on my feet
Your face ain't big for my boot
Kick up the yout
Man know that I kick up the yout
Dem boy dere tried twist up the truth
How dare you twist up the truth
Wanna come round here like a badboy? Do it
Bun all the talking, go on then, do it
Running through the party, bottle of BACARDÍ
Bro's in my ear saying "Stormz, don't do it"
Devil on my shoulder, I don't lack
Hit 'em with a crowbar, I don't scrap
Even when I'm sober, I'm so gassed
Say you ride but there's no car and no mash (what you talking 'bout?)
Clown, stand down
Never had a MAC-10 or a trey pound
You were never bad then, you ain't bad now
Never had the MAC then, little *****, back down
Wait, I saw bare kicks, saw bare clothes
Said **** that, I can't wear those
I don't like them, they're not my ting
They went silent, they're all weirdos
Like yeah, Stormz gone clear
Never had a Tom Ford or a Moncler
Mandem are calm, but you see my don there?
********, tell 'em don't do it, don't dare
Don't care who you know from my block
You're not Al Capone, you'll get boxed
They can take my car and my creps
I'll still do the road in my socks
Like who's gonna stop me? You? Him?
Weed in a cigarette, blue slims
Don't be an idiot, move smart
I've been killing it, new king
******* ain't ready for my new stuff
You're a ***** by yourself, go and group up
And when Krept went States for the BETs
I was covering Krept like a bootcut
Ith mad, that's a family ting, straight family ting
Dem man are broke, no salary ting
Had a peng ting called Amy
Telling me to come round hers on a Valerie ting
Hashtag Merky Academy ting
Coming like art in a gallery ting
Dem boy dere wanna chat about bars
Wanna chat about crud but, but, but
You're getting way too big for your boots
You're never too big for the boot
I've got the big size twelves on my feet
Your face ain't big for my boot
Kick up the yout
Man know that I kick up the yout
Dem boy dere tried twist up the truth
How dare you twist up the truth, look
I'm too hot
Drug money in my shoebox
I'm the man of the house and my shows sold out
Like the brudda from the Boondocks
Beats 1 in my boombox
Still steal meat from the stew pot
Mandem go sick when my tune drops
Little man, that's a Hublot, not a Hublot
What? Pronounce it right, you prick
I go mad, yeah, I'm down to die for this
I don't care, bro, I'm down to pipe your chick
Mad stressed so I'm bound to light my spliffs
Wait, I'm bound to ride for Flipz
Real Gs gonna ride around to this
Man, I've got no time to write a diss
I never left my Nine to Five for this Wasteman ting
I don't care what rave man's in
I came here to relax but if it gets mad
Mek a young boy take man's tings
Try tell me I'm way too big to rebel?
Nah, man, you're never too big to rebel
I was in the O2 singing my lungs out
Rudeboy, you're never too big for Adele
Leave my yard, blow a kiss to my girl
Salute to my sister as well
Gotta keep trophies down at my mum's bit
Man, I'm getting way too big for my shelf
Man, I see bare MCs wanna sideline
But I still got a couple bangers in the pipeline
Man, I've got grown men @ing me bullshit
You're getting way too old for the timeline
You're getting way too old for a diss
Should've looked after your kids
Get out the booth, go home to your son
It's never too late to commit
It's like man love put my name in a bar
Random flight, get a plane to Qatar
This year, I learnt how to take care of business
Next year, I'll learn how to play the guitar
You're getting way too big for your boots
You're never too big for the boot
I've got the big size twelves on my feet
Your face ain't big for my boot
Kick up the yout
Man know that I kick up the yout
Dem boy dere tried twist up the truth
How dare you twist up the truth, look
You're getting way too big for your boots
You're never too big for the boot
I've got the big size twelves on my feet
Your face ain't big for my boot
Kick up the yout
Man know that I kick up the yout
Dem boy dere tried twist up the truth
How dare you twist up the truth