Stormzy Just Shared A Screenshot Of His Phone & Fans Can't Believe How Many Unread Messages He Has
25 July 2017, 14:26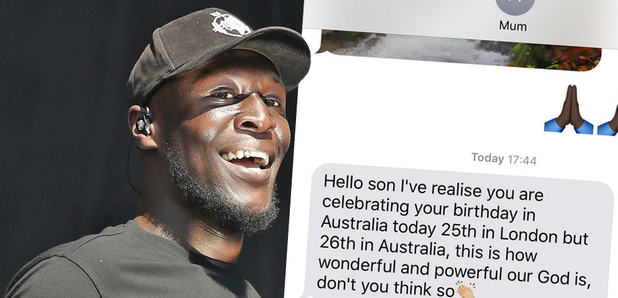 His battery level was also making fans feel weird!
After an incredible year, we hope Stormzy has a day full of celebrations tomorrow because it's his birthday!
Yes, the South London lad is turning another year older and he's going to be partying out in Australia where he's currently perfroming sold out shows across the country.
> Stormzy Is 100% Going To Make Music With Love Island's Chris & Kem And We Have The Definitive Proof
But because Stormzy's mum is an absolute legend, she thought about the time difference and made sure to message him when it would be his birthday in Australian time (10 hours ahead of the UK). However Stormz couldn't help but find her amazement at the time difference hilarious...
The time difference is blowing my mum's mind pic.twitter.com/1gt5EJCAnM

— #GSAP (@Stormzy1) July 25, 2017
After sharing their message exchange on his Twitter though, fans weren't simply wishing him a happy birthday for tomorrow or saying how nice his mum is...oh no. It was the amount of unread messages that sent people crazy...
please open some of those 281 message....

— Ciaran Ward (@CiaranWard1878) July 25, 2017
281 unopened messages? Ffs glad I haven't got OCD

— Ryan Cooper (@RyanJCooper1992) July 25, 2017
281 unread massages. You feeling ok?

— 04ClarkR (@Crumpet09) July 25, 2017
bro you got 281 messages, I be lucky to get that in a year

— Ben Blackmore (@benb556) July 25, 2017
281 unread messages! I don't have that many friends haha

— #Raceyboy (@Johnathan_Race) July 25, 2017
The level of Stormzy's phone battery being 7% also got a very honorable mention by loads of people too...
Charge your phone making me anxious

— H (@harryelsey1) July 25, 2017
how u gonna read those 261 texts on 7% battery

— dave (@xDavidTaylorx) July 25, 2017
That's the cutest,, also you should probs charge your phone soon

— Peyt (@Peyton_Turner00) July 25, 2017
We can't confirm whether Stormzy has managed to find a charger for his phone or whther he's read and replied to all those 281 unread messages, but we'll bring you updates as soon as we have them.
Whilst we wait for those (probably forever), take the time to remind yourself about how amazing Stormzy's debut performance at our #CapitalSTB was this summer at Wembley Stadium...
Download The Capital App For All The Latest & Greatest Stormzy News Plus The Biggest Hits Too...What More Could You Want?