Sia Just Reached Out To Drake And The Internet Went Into Meltdown...
18 July 2016, 11:13 | Updated: 18 July 2016, 11:24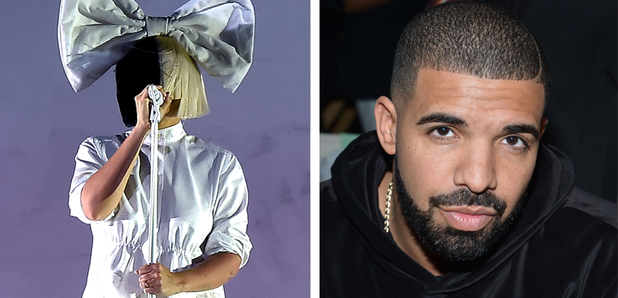 Is the 'Cheap Thrills' singer looking to work with Drizzy on a new track?
As one of the world's most famous singers, surely Sia can pretty much work with any artist she wants?
She's already worked with the likes of Sean Paul and David Guetta, but the Australian singer/songwriter now has her eyes on Toronto's favourite son.
She sent Drake an adorable tweet after she failed to get in touch in any other way and it's only made us love her even more than we already did!
@Drake I'm trying to get in touch with you. I want to do something! Can you dm me your person? Thanks! Your fan, Sia!

— sia (@Sia) July 15, 2016
Of course the idea of this pair of hugely succesful artists working together has blown people's minds and the internet has reacted in the only way it knows how...
It's happening y'all @Drake @Sia pic.twitter.com/VXi4uSR5M5

— knowyourself (@GenuineEnergy) July 16, 2016
sia tweeting drake that she wants to get in touch with him when literally all she has to do is hit up rihanna

— biebs vacay cornrows (@fijiwatergod) July 15, 2016
@Sia @Drake YASSSSSS OMG!! WHATEVER THIS IS, MAKE IT HAPPEN!!!

— barbara² 7/27 | 92 (@alrenreguiaf5H) July 15, 2016
When Sia & Drake drop their track... pic.twitter.com/nzg1UDBvLW

— Shady Music Facts (@TheShadyFacts) July 15, 2016
@Gabbyrc541 @Sia @Drake im never gonna be ready

— jaded (@JadeeLord) July 17, 2016
@Sia @Drake yes your voices together will be fire

— Meena (@MissK_01) July 17, 2016
I wonder if Sia found Drake

— Candece Campbell (@CandeceCampbell) July 17, 2016
But surely the best tweet of all has to be of this amazing image of Drake and Sia fused together.
@Sia @Drake YAAAAS pic.twitter.com/15jyA1v7PO

— Monsted #LG5 (@ExotEmm) July 16, 2016
So if these two were to collaborate, would it be Drake ft Sia or Sia ft Drake? Maybe it'd even be Sia & Drake? SO MANY QUESTIONS!
You may also like...