Robin Thicke Makes A Splash On Beach Family Day Out In Florida
29 August 2013, 14:53
The 'Blurred Lines' singer was seen spending time with his wife and son in Miami this week.
Robin Thicke was seen out with his son Julian and wife Paula Patton as they spent the day at the beach in Miami this week.
The family were playing around in the sea, with the 36 year-old showing off his diving skills in the water.
The three were in high spirtis as they enjoyed the good weather, just days after the star's controversial VMAs 2013 performance.
It was the addition of Miley Cyrus which caused a stir on Sunday night (25th August) as she started grinding up against the singer during a rendition of 'Blurred Lines'.
Check out a picture of Robin and his family in Florida below: (Picture: OIC)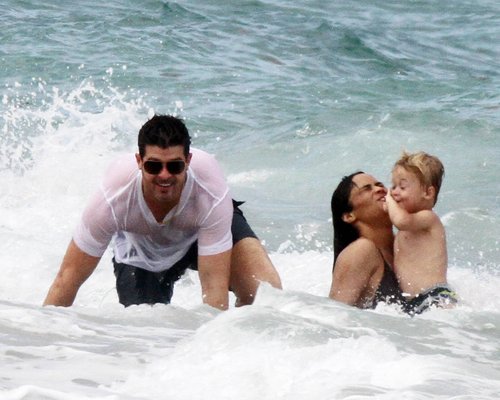 He was also joined by 2 Chainz and Kendrick Lamar for a performance of new song 'Give It 2 U'.
Robin's mum joked that she could never "unsee" what she witnessed onstage with Miley's appearance.