Robin Thicke Says Criticism Of 'Blurred Lines' Video And Lyrics Is "Ridiculous"
10 July 2013, 12:33
The singer hits out at negative comments about his Vodafone Big Top 40 number one single.
Robin Thicke has lambasted criticism over the lyrics as well as the music video for his hit 'Blurred Lines'.
The Vodafone Big Top 40 number one single came under fire by some for it's provocative lyrics and sexually explicit promo.

In response to the critics, E Online reports that Robin said: "I can't even dignify that with a response, that's ridiculous.".
He later went on to say: "I don't want to be sleazy, I'm a gentleman, I've been in love with the same woman since I've been a teenager."
Speaking about the promo, he said: "My initial response was I love the clothed version, I don't think we should put out the naked version. And then I showed it to my wife and all of her girlfriends and they said 'You have to put this out, this is so sexy and so cool.'"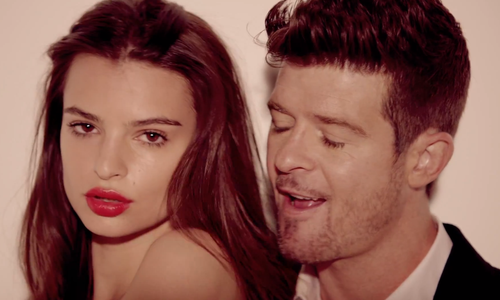 The song, which contains lyrics like "Ok now he was close/ Tried to domesticate you/But you're an animal/Baby, it's in your nature" also features rapper T.I and Pharrell Williams.

The singer talked more to Capital Breakfast today about the nudity in his song, and comparisons with Justin Timberlake's own music video for 'Tunnel Vision'.