"I Nearly Got Married In Vegas": Rixton on Cheryl's Wedding, Number 1 And 'Problem' Cover
14 July 2014, 16:59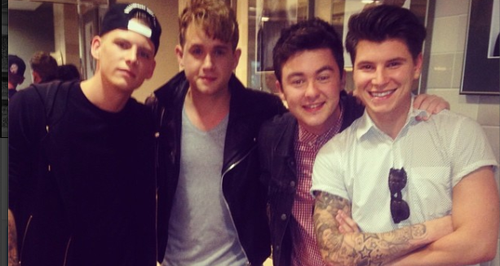 The Rixton lads are a crazy bunch – but which member of the band admitted that he nearly got married in Vegas once, in light of Cheryl Cole's super quick marriage?!
It's been a spectacular week for Rixton – the boys shot straight to number one with their debut single 'Me And My Broken Heart', so we grabbed them for a chat about all things music, Cheryl Cole's wedding and their Ariana Grande cover.
First things first, the boys just scored their first number one at the weekend, a pretty momentous occasion in any artists career, so how did they celebrate? Well, Charley Bagnall revealed, "We watched the World Cup Final and had a few beers." With Lewi Morgan adding, "Yeah, it got pretty wild. We were in bed by 11.30. It's crazy for us, that. It was insane." Yep, sounds pretty wild!
They boys revealed that they will be having a proper celebration if their song stays at number one next Sunday. Jake Roche told us, "If it stays til next Sunday, we're up in Liverpool so I think we are going to do something definitely."
The boys manager, Scooter Braun, also got in touch to congratulate the boys – via video link from his bed! Lewi said, "He FaceTimed us last night from his bed, bless him." And Scooter wasn't the only one – Simon Webbe from Blue also tweeted the boys – which they were pretty happy about. And even Ed Sheeran dropped Jake a text – they're on first name terms, dontcha know!
As well as making their own music, the boys recently found time to do an INCREDIBLE cover of Ariana Grande's 'Problem' – but has the lady herself heard it? Jake tells us, "She has seen it, she really enjoyed it! She still hasn't tweeted about it but hey! No, you know we are huge fans of her and that song is huge and she's part of the same team so we thought we would put our own spin on it."
"It's a great song and we kind of just did it for us, really. We were bored one day and were like 'shall we just whack down our little cover of 'Problem'' and it got a bit of traction online so it was crazy."
And we couldn't pass up the opportunity to ask the boys about Cheryl Cole's shock wedding announcement. Jake told us, "She's an incredibly beautiful person so well done Cheryl. Well done on getting married after three months, that's good! If you know, you know. And she knows her single's coming out next week."
Would any of the boys get hitched to someone they'd only known three months? Well… Lewi the little dark horse told us, "You just don't know, I almost did in Vegas!" – (almost) lucky lady!