Rag'n'Bone Man - 'Human' (Live At The Summertime Ball)
14 June 2017, 14:09 | Updated: 14 June 2017, 14:10
Emotions were running high as Rag'n'Bone Man performed a breath-taking version of his breakthrough smash hit 'Human' at the #CapitalSTB.
Following a year that has seen him become one of the most talked about musicians in the UK and also take home 2 BRIT Awards, Rag'n'Bone Man topped it all off with this stunning performance of his standout hit.
'Human' is a song that hits you right in the feels and Rory Graham (yep that's his real name) performed it with such passion that there were deffo a few tears shed form some of those 90,000 fans inside Wembley Stadium.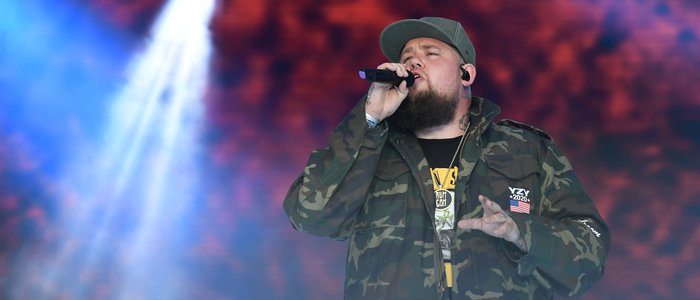 It was the 32-year-old's first ever time performing at the iconic venue, but his blues-tinged tunes didn't feel out of place at all and his passionate vocals will be echoing around the stadium for a long while afterwards.
Weren't lucky enough to attend the ball? Never fear - you can catch up with Rag'n'Bone Man's powerful set with the video above. Talk about making an impression on your #CapitalSTB debut!
Rag'n'Bone Man – Summertime Ball 2017 Setlist
Human
Skin
Rag'n'Bone Man 'Human' Lyrics
I'm only human
I'm only, I'm only
I'm only human, human
Maybe I'm foolish
Maybe I'm blind
Thinking I can see through this
And see what's behind
Got no way to prove it
So maybe I'm blind
But I'm only human after all
I'm only human after all
Don't put your blame on me
Don't put your blame on me
Take a look in the mirror
And what do you see
Do you see it clearer
Or are you deceived
In what you believe
'Cause I'm only human after all
You're only human after all
Don't put the blame on me
Don't put your blame on me
Some people got the real problems
Some people out of luck
Some people think I can solve them
Lord heavens above
I'm only human after all
I'm only human after all
Don't put the blame on me
Don't put the blame on me
Don't ask my opinion
Don't ask me to lie
Then beg for forgiveness
For making you cry
Making you cry
'Cause I'm only human after all
I'm only human after all
Don't put your blame on me
Don't put the blame on me
Oh, some people got the real problems
Some people out of luck
Some people think I can solve them
Lord heavens above
I'm only human after all
I'm only human after all
Don't put the blame on me
Don't put the blame on me
I'm only human
I make mistakes
I'm only human
That's all it takes
To put the blame on me
Don't put the blame on me
I'm no prophet or Messiah
Should go looking somewhere higher
I'm only human after all
I'm only human after all
Don't put the blame on me
Don't put the blame on me
I'm only human
I do what I can
I'm just a man
I do what I can
Don't put the blame on me
Don't put your blame on me