EXCLUSIVE: Is A Pharrell And Calvin Harris Collaboration On The Cards? #CapitalSTB
20 June 2014, 18:12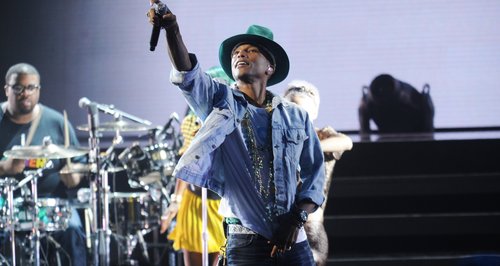 Pharrell Williams gets hit with our killer Summertime Ball Buster question and teases some VERY exciting potential collaborations…
Pharrell Williams is SERIOUSLY cool, so we aren't surprised that he's taking his performance at the legendary Wembley Stadium in his stride. Eighty thousand people? No biggie.
When we asked him if he was nervous he said: "No. No, no, no, no. There's no room to feel nervous. I think if anything else it's like more gratitude because it's not nervousness that got us here.
Pharrell Teases Calvin Team-Up And Chats #CapitalSTB Excitement...
"You know, the people weren't nervous about their decision to shoot the songs to number one or to, like, purchase them and give us such great stats.
"You know, they weren't nervous they were just very sure of it and so I'm very sure about the way I want to say thank you."
We heard that there might be a sneaky chance of Pharrell jumping on stage with a certain Ed Sheeran, but it seems the decision is still up in the air.
Pharrell told Capital Breakfast, "I don't know, he's not asked me. Yeah, but I mean I just haven't spoken to him in a couple of days, who knows? He's gonna kill it." One to keep an eye out for, then!
We also grilled Pharrell about a possible collaboration with Calvin Harris – HOW incredible would that be?
He told us, "You know what? We spoke, we haven't had a chance to finish having a conversation but I think he is so incredibly talented and whatever he would like to do, yeah I'd do that. I think he has a rare unique voice and I think the songs that he makes are just so different and the world needs people like him."
That's got us SERIOUSLY excited, but we still couldn't let him get away without giving him a Summertime Ball Buster question. We asked Pharrell what he would do if the Wolverinre version of 'Happy' became more popular than the original, and a petition went out asking him to perform at the Summertime Ball in full Wolverine garb.
Pharrell swerved the bullet and told us, "Well, what do I do? I thought it was such a really great and inventive idea to treat the Summertime Ball like Halloween but no. I thought it was a really great idea, yellow is my favourite colour. But I wanna hug the fans I don't wanna slice them." Yeah, we aren't insured for Wolverines so it's probably for the best…
The Countdown To The #CapitalSTB Is ON!
You may also like...