Pharrell Misses Out On Oscars 2014 Prize But Wows With Performance – Watch
3 March 2014, 07:57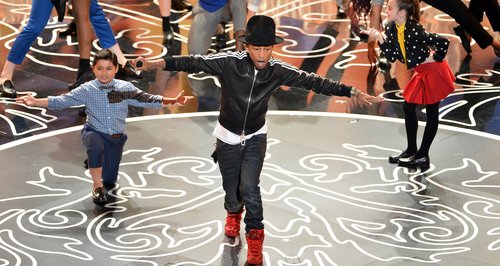 The 'Happy' star performed his former Vodafone Big Top 40 number one and danced with some of Hollywood's biggest stars.
Pharrell might have missed out on the chance to claim his first ever Oscar for the song 'Happy' but managed to put on one of the most memorable and well-received performances in the history of the show.
The star saw his Despicable Me 2 track lose out to 'Let It Go', taken from animated flick Frozen, in the Best Original Song category.
During his performance of the track, which featured a welcome return of his famous hat, he had the entire Hollywood elite on their feet and even started dancing with some of the stars.
There was a memorable moment with Academy Award winner Lupita Nyong'o who was jiving along with the singer.
Pharrell also stole the show on the red carpet after turning in a tux-shorts combo (no hat though).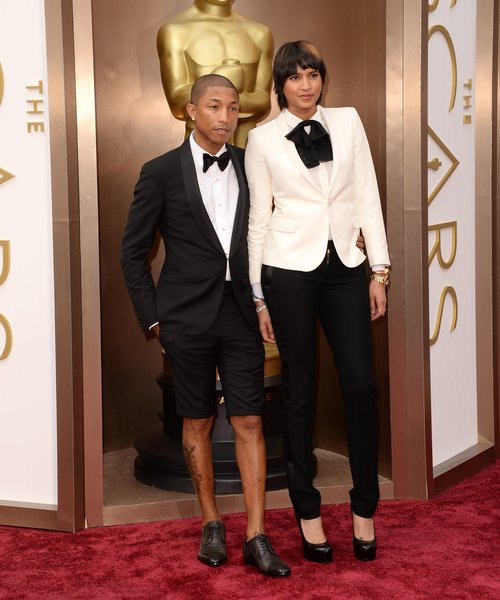 The big winner of the night was 12 Years A Slave which took home Best Picture.
Matthew McConaughey won the Best Actor prize with Cate Blanchett taking home Best Actress and Gravity also took home a total of seven Oscars.
Full winners list for the Osars 2014 is as follows:
Best Picture

Best Actor in a Leading Role
Matthew McConaughey (Dallas Buyers Club)

Best Actress in a Leading Role
Cate Blanchett (Blue Jasmine)

Best Actor in a Supporting Role
Jared Leto (Dallas Buyers Club)

Best Actress in a Supporting Role
Lupita Nyong'o (12 Years a Slave)

Best Animated Feature
Frozen (Chris Buck, Jennifer Lee, Peter Del Vecho)

Best Cinematography
Gravity (Emmanuel Lubezki)

Best Costume Design
The Great Gatsby (Catherine Martin)

Best Directing

Best Documentary Feature
20 Feet from Stardom (Morgan Neville, Gil Friesen, Caitrin Rogers)

Best Documentary Short
The Lady in Number 6: Music Saved My Life (Malcolm Clarke, Nicholas Reed)

Best Film Editing
Gravity (Alfonso Cuarón, Mark Sanger)

Best Foreign Language Film

Best Makeup and Hairstyling
Dallas Buyers Club (Adruitha Lee, Robin Mathews)

Best Original Score

Best Original Song

Best Production Design
The Great Gatsby (Catherine Martin, Beverley Dunn)

Best Animated Short Film
Mr. Hublot (Laurent Witz, Alexandre Espigares)

Best Live Action Short Film
Helium (Anders Walter, Kim Magnusson)

Best Sound Editing
Gravity (Glenn Freemantle)

Best Sound Mixing
Gravity (Skip Lievsay, Niv Adiri, Christopher Benstead, Chris Munro)

Best Visual Effects
Gravity (Tim Webber, Chris Lawrence, Dave Shirk, Neil Corbould)

Best Adapted Screenplay
12 Years a Slave (John Ridley)

Best Original Screenplay