Forget Kevin Bacon! It's ALL About The Six Degrees Of RYAN TEDDER Now!
21 August 2014, 07:00
Find out how the OneRepublic frontman seems to be linked to EVERY star in the music business somehow!
Ryan Tedder may well be the frontman for OneRepublic, whose single 'Love Runs Out' is doing VERY well on the Vodafone Big Top 40 right now, but the US star is ALSO very in-demand across the music world.
It seems everyone wants a piece of the 'Counting Stars' singer-songwriter, so much so that Capital are naming him the new Kevin Bacon - the music world's one superstar who can be linked to ANYONE else in the industry within six moves!
From writing hits for pop heavyweights like Beyonce and Adele to teaming up with stars like Timbaland, see below for Capital's Six Degrees Of Ryan Tedder… and you'll soon see why this chap is the glue that holds the music world together…
From Ellie Goulding to Beyonce… and back to Mr. Tedder!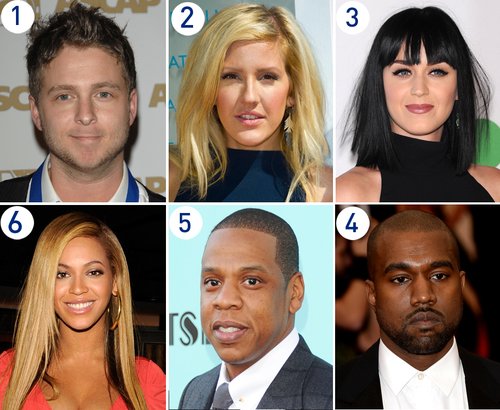 1. Ryan Tedder wrote and produced last year's hit 'Burn' for…
2. Ellie Goulding, known for her BFF status with the one and only…
3. Katy Perry, whose single 'E.T.' had a crafty rap verse thrown in from…
4. Kanye West - whose rap collaboration and #bromance partner is…
5. Jay-Z, who's currently 'On The Run' across the globe with his wife…
6. Beyonce - whose signature hit 'Halo' was written by… RYAN TEDDER!
From the beats of Timbaland to those incredible dancing hips of Adam Levine!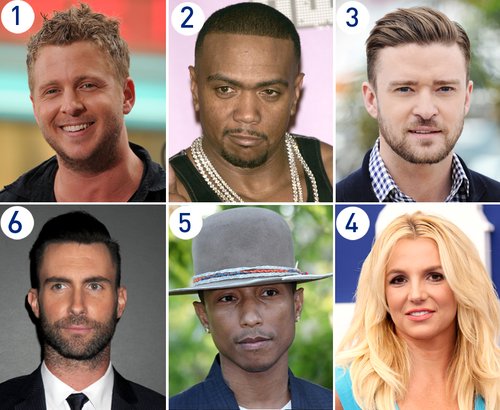 1. Ryan Tedder featured as the main singer on 'Apologise' by…
2. Timbaland… who is WELL known for his regular collaborations with…
3. Justin Timberlake - who EVERYONE knows used to go out with…
4. Britney Spears - who wangled a guest appearance on her 2002 hit 'Boys' from…
5. Pharrell Williams - the man who's a coach on The Voice US alongside…
6. Adam Levine - whose new single 'Maps' with Maroon 5 was penned by… RYAN TEDDER!
From making magic with Adele to a certain Queen Bey of the music world!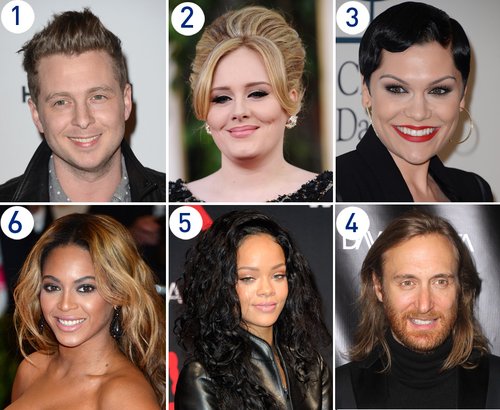 1. Ryan Tedder wrote the amazing smash 'Rumour Has It' for the one-and-only…
2. Adele - who studied at the BRIT School alongside…
3. Jessie J - whose hit 'Laserlight' was produced by superstar DJ…
4. David Guetta - who released 'Who's That Chick' with naughty lady…
5. Rihanna - whose Roc Nation boss Jay-Z is the husband of…
6. Beyonce - whose 2014 song 'XO' was written by the ever-talented... RYAN TEDDER!
From a cheeky team-up with J-Lo… to the depths of the rap world and back!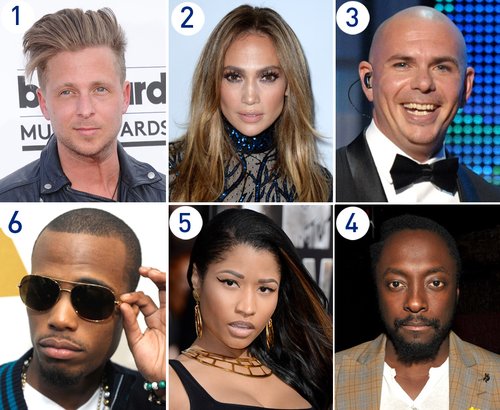 1. Ryan Tedder gave dancefloor anthem 'Do It Well' to the bootylicious…
2. Jennifer Lopez - who has teamed up COUNTLESS times with Mr. Worldwide himself…
3. Pitbull - who dropped a SWEET verse on the 'Scream & Shout' remix for…
4. Will.i.am, who graciously pumped up the volume on 'Check It Out' with…
5. Nicki Minaj - The hip-hop star tasked to bring something a lil' special to 'Out Of My Mind' with…
6. B.o.B. - whose 2012 Vodafone Big Top 40 hit 'So Good' came from the mind of… RYAN TEDDER!
From X Factor superstars to teen idols… Ryan Tedder's linked to EVERYONE!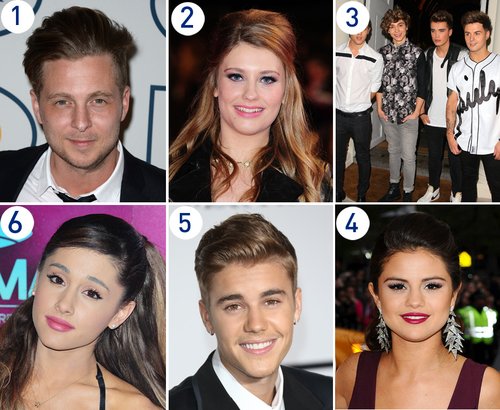 1. Ryan Tedder gave a debut number one single with 'Ghost' to X Factor alumni…
2. Ella Henderson, who was joined during her X Factor days by loveable boy band…
3. Union J - the band who opened on a date on the 'Stars Dance' tour last year for…
4. Selena Gomez, who EVERYONE knows used to date 'Boyfriend' superstar…
5. Justin Bieber, who's holding out on us ALL with a secret duet alongside…
6. Ariana Grande - whose NEW album 'My Everything' has a track on it produced by… *drum roll please*… RYAN TEDDER!
You may also like: