Nathan Sykes Was VERY Impressed With Union J At The #CapitalSTB: "They FLEW!"
24 June 2014, 14:45 | Updated: 25 June 2014, 10:36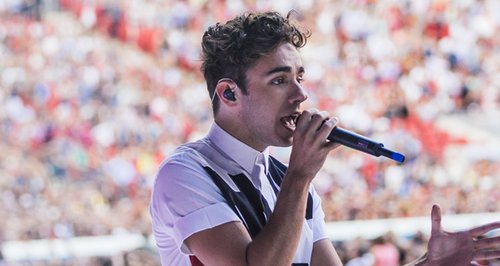 The STB star is backing Union J all the way... and loved their performance at the weekend!
The #JCats will definitely agree with Nathan on this one… he says Union J are "smashing it"!
The UK star also says he LOVED watching Union J fly at the #CapitalSTB… after getting to watch their high-flying antics from backstage on the big day.
Nathan Sykes on Union J's STB performance...
Nathan stopped by for a quick chat with Capital backstage at Wembley Stadium on Saturday (21st June), after shocking the crowd with his surprise Jessie J duet.
"They were brilliant! They flew!" Nathan exclusively told Capital's showbiz reporter Kevin Hughes. "They flew from the top of wembley!
"I was just stood watching them with 5SOS who are really nice guys as well," he added.They're absolutely smashing it."
The Union J boys performed their NEW single 'Tonight (We Live Forever)' live for the FIRST time at the #CapitalSTB, and band member JJ Hamblett also spoke to us after the big moment:
Union J's JJ Hamblett reveals the BEST moment of his life...
"It was absolutely out of this world amazing incredible, break-taking," he told us. "It was the best experience of my life."
Relive Union J's high-flying performance from the Summertime Ball 2014 below: