Martin Garrix Will Bring Unreleased Music & Maybe A Guest Or Two To The #CapitalSTB!
30 April 2015, 07:50
There's not one but TWO amazing superstar DJs confirmed for the #CapitalSTB – Martin Garrix joins Avicii on the line up with some brand new tunes!
This year's Summertime Ball with Vodafone line-up is definitely shaping up to be the best one ever – and Martin Garrix has just been added to the stellar line up!
The Dutch DJ who has taken over the world and worked with some of the biggest names including Ed Sheeran and Usher will be getting 80,000 of you in the mood to party at the ball!
Martin told us, "It's insane, I'm more than excited. I'm bringing, like, 15 friends with me I'm super excited!"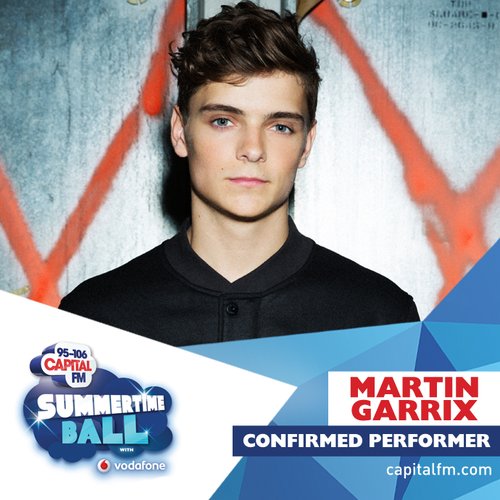 As for his set list, Martin's keeping us in the dark for now. He told us, "I have no clue yet to what I'm going to do. Maybe I'll bring some guests with me on stage but I know for sure that it's going to be a lot of fun. I've got so much unreleased music which I'm going to play."
"I've been in the studio with David Guetta, Avicii – Ed Sheeran and I did a track together called 'Rewind, Repeat It' and I've just released a new song with Usher - so I'm going to play a bunch of new music."
As well as being a HOT piece of eye candy behind those decks, Martin will definitely get the party started at London's iconic Wembley Stadium - not bad for the youngest performer on this year's bill.
Since storming into the charts in 2013 with his number one hit 'Animals', Martin's been giving the likes of David Guetta, Calvin Harris and fellow Summertime Ball performer Avicii a run for their money - we can NOT wait to see him live and loud on the 6th June!
If You Can't Wait To See Martin Garrix Get Wembley Jumping, Tweet Us @CapitalOfficial With #MartinGarrixAtCapitalSTB
Tickets for Capital's Summertime Ball 2015 with Vodafone go on sale tomorrow (Friday 1st May) at 8am.
Get all the latest @CapitalOfficial #CapitalSTB
Check out Martin Garrix and Usher's absolute TUNE 'Don't Look Down' to get you in the mood for his set at the #CapitalSTB: