WATCH: Adam Levine's 'Super Terrifying' Encounter With An Overzealous Stage Invader
7 April 2015, 14:30 | Updated: 7 April 2015, 15:30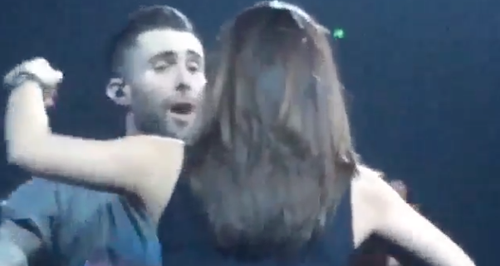 One Maroon 5 super fan charged the stage and left frontman Adam shaken with her surprise display of affection…
It's a hard life being a rock star with thousands of adoring women throwing themselves at you… well, it is when they are LITERALLY throwing themselves at you!
Poor Adam Levine got the shock of his life when he was in the middle of a soulful section of his show and an overzealous female fan used the opportunity to clamber up on stage and wrap herself around the Maroon 5 frontman.
Adam was visibly shocked by the unexpected stage invasion and later told the crowd at Anaheim's Honda Centre, "It's just weird to be in the moment, you know? And you're singing, and your eyes are closed, and you have this beautiful moment."
"And then the next thing you know someone's f**king in your face. It's super terrifying."
A lot of fans took to Twitter to criticise the woman's actions, saying that people like her are the reason that security is so tight at concerts these days. At least it was only a hug she was after!