Maroon 5's Greatest Hits: Adam & Co's BEST Ever Music Videos Ranked
3 September 2015, 16:23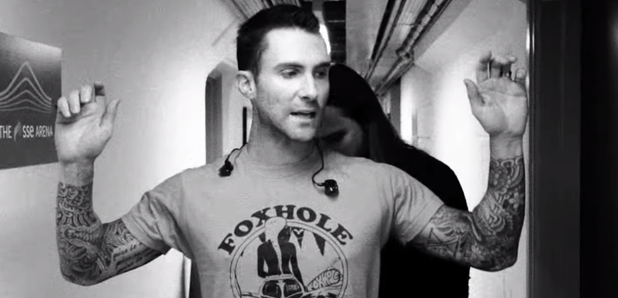 The guys are releasing their Greatest Hits album later this year, but we couldn't resist counting down their BEST music videos!
We can't quite believe it's been over 13 years since Adam Levine and co. dropped their debut single, and in the time they've become one of the biggest bands on the PLANET!
After 5 studio albums and BILLIONS of video views, Maroon 5 have been behind some of the best songs of the past decade and beyond - so here's Capital's pick of the band's BEST songs and music videos.
1. Moves Like Jagger
We can't quite believe that this tune is already 5 years old - but this gem with vocals from pop diva Christina Aguilera has to be one of our all time favourites!
2. Sugar
Not only did this track hang around on the Vodafone Big Top 40 chart for almost half a year (!!!), it also has one of the BEST videos of the past 12 months, too! The band genuinely drove around and surprised couples getting married on their big day, by performing impromptu gigs at their weddings!
3. This Love
Even though it was released as a single two YEARS after the album it featured on, 'This Love' was one of the biggest songs of 2004 - Kanye West even produced a remix of it with backing vocals from John Legend.
4. Payphone
If you were ever asked to pinpoint the exact moment that Adam Levine became a badass, it was April 2012 - that's when this EPIC collaboration with Wiz Khalifa dropped. It was the lead single from one of the band's best albums - 'Overexposed'.
5. Maps
Another epic lead single, and another INTENSE video. 'Maps' was the first track from their latest album, 'V', and ended up being one of the top songs of summer 2014.
6. Harder To Breathe
This is where it all began, the EPIC debut single! It's the first time we got to experience Adam Levine's raw vocals and their 2002 single was a rocky sound we were definitely on board with.
7. She Will Be Loved
Another track from the band's debut album, 'Songs About Jane', this chilled classic is sure to bring back memories for everyone - ours involve a karaoke party with everyone howling like wolves at the chorus... or that's what it sounded like, anyway)
8. If I Never See Your Face Again
Rihanna's been one of the biggest artists of the last decade, so throw her in the same room as Maroon 5 and you've got a HUGE hit. This collaboration from 2009 sounds just as fresh today as it did 6 years ago.
9. One More Night
Another raw and gritty from Adam, who could totally pass off as a professional boxer. 'One More Night' was another top 10 hit from the guys' epic 'Overexposed' album in 2012.
10. Sunday Morning
If ever there was an anthem for just kicking back and chilling in your onesie at the weekend, it HAS to be this 2004 gem from their debut album, 'Songs About Jane'.
11. This Summer
After over a decade in the business, Adam & co. have built up enough balls to get a bit edgier, and their latest single, 'This Summer', is definitely a far cry from their earlier music.
Warning: Explicit content.
BONUS: Feelings
You've probably guess that we're huge fans of Maroon 5, and their latest album, 'V', has been on our Most Played for months. 'Feelings' is rumoured to be their next and, no doubt, final track to be taken from this record and we begin the agonising wait for their sixth studio album.