These Liam Payne Super Fans Took Promoting His New Single To The Next Level
23 April 2018, 16:07 | Updated: 23 April 2018, 16:20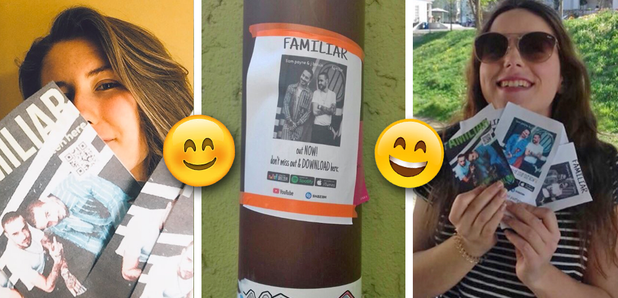 From Mexico To Germany, Liam Payne's fans were out in force to make sure the world heard about his brand new single 'Familiar'.
When your favourite artist releases a new single it's natural to get pretty excited, but these Liam Payne fans have taken that excitement to the next level by spreading the word to their local communities.
Not content with the usual press a Liam Payne release gets across online, TV and radio platforms around the wolrd, these super fans took to the streets to hand out flyers and stick up posters promoting Liam's new single 'Familiar' with J Balvin.
> We Translated Liam Payne & J Balvin's 'Familiar' Lyrics Into English & They're Actually Beautiful

Liam took to Twitter to thank fans for supporting the new single and showed his love for the fans' promo project that's been sweeping the world in recent days...
Thank you guys for supporting #Familiar. Love this! https://t.co/rKDJ1VQ2rF

— Liam (@LiamPayne) April 22, 2018
We spoke to 19 year old Alena who lives in Germany and she told us just what it was that drove her to hand out and stick up 'Familiar' flyers around her hometown just outside of Stuttgart.
"I knew I wanted to do something," Alena explained, revealing that she went out promoting the single before she'd even heard it. "I dragged my friend along and she helped me. I didn't count how many but I think we posted about 100."
Revealing the reactions of local residents in her hometown, Alena told us, "People were starring and wondering what we were putting up. I was scared about doing it, but people had a look and I just wanted to support Liam."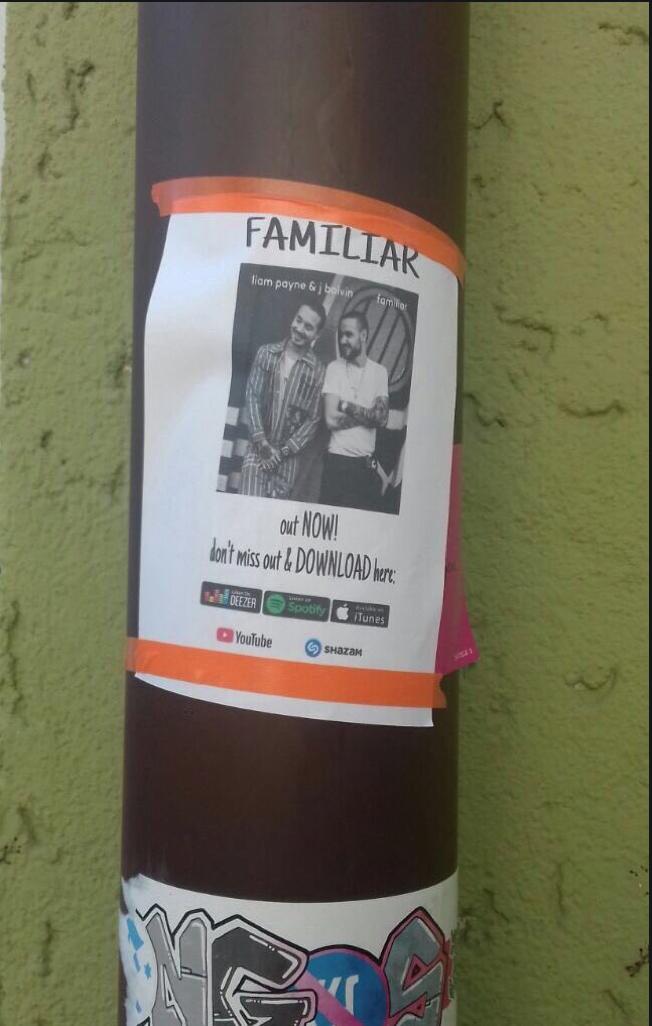 Twitter: @paperheartslip
After Liam quoted her tweet as he thanked fans for their efforts, Alena said she was so excited. "I screamed and I was so happy. I'm so grateful and it means so much to me. Liam is so good to his fans and he deserves all his success."
Whilst she plans on helping promote Liam's future singles and album in bigger cities in the future, as well as heading to America to see Liam live for her 20th birthday, Alena isn't the only fan of Mr Payne's who has been out supporting the cause. Check out this loyal lot across the globe...
Out here promoting #familiar in the sun ! @tmhfreya @LiamPayne pic.twitter.com/lNWoDWojq4

— Daisy (@idkdais) April 20, 2018
It's a beautiful day in Italy and no better day to promote #Familiar by @LiamPayne x @JBALVIN !!
Words cannot describe how proud of you I am for everything you've done and achieved Liam, can't wait for LP1 ( part 1 )

https://t.co/fQF8UKrtOM pic.twitter.com/xBF8wBAroD

— ingrid // Familiar (@itsjustingrid_) April 21, 2018
Summer is coming and #Familiar is such a summer song!! I did a little promo in my town, in France. pic.twitter.com/b9HdLTmE2i

— maude ¨̮ (@poetsliam) April 20, 2018
The fans mexican we want to demonstrate our support, which we have upholstering Mexico with #Familiar pic.twitter.com/a1diLFx2ZC

— Pao (@pgclouis) April 21, 2018
Today I did some promo of #Familiar in my city, I hope people see it here in Ecuador. I love doing this! Day 1

Ps: We love the song, good job guys @LiamPayne @JBALVIN #FamiliarPromo pic.twitter.com/Mb7AK1mJVh

— Caro LOVES Familiar (@supportmylads) April 22, 2018
It's a great thing to see fans coming together and not only supporting their favourite star, but also each other and working together to spread the word for great music!
Liam is always vocal about how proud he is of his fans and whilst it's probably not a good idea to go sticking posters up everywhere all the time, it's clear that fans' efforts are greatly appreciated by the One Direction lad.
> Download Our Free App For All The Latest Liam News!
Whilst you're here, check out what happened when Liam joined us for 'Finish The Lyric' recently...