Labrinth Performs With The X Factor's Ella Henderson At Summertime Ball 2013
9 June 2013, 18:36 | Updated: 9 June 2013, 18:38
The 'Earthquake' singer wowed fans at the Ball with a huge set as well as a surprise duet partner.
Labrinth helped really bring the party to the Summertime Ball 2013 today (9th June) when he brought out all the hits for a set that memorably saw him perform a surprise duet.
The UK singer-songwriter sang four huge songs for his appearance at Wembley Stadium and was even joined for one song by X Factor star Ella Henderson.
Performance Review: Labrinth helped kick the Summertime Ball 2013 into high-gear with a colourful performance which began with an uplifting rendition of his song 'Express Yourself', which saw the UK singer-songwriter whipping the crowd into a frenzy as he ran back and forth on the Wembley stage. "Do you mind if I take it old school Wembley?" Labrinth asked before ending the song with an impressive guitar solo, then launching into his hit song 'Let The Sun Shine'.
Labrinth then caused the 80,000 strong audience to really go crazy when he introduced The X Factor UK's Ella Henderson to duet with him on 'Beneath Your Beautiful', with fan-favourite Ella receiving a huge round of applause from those in attendance. The UK star wrapped up a crowd-pleasing set by making everyone jump up and down to his dancefloor smash 'Earthquake', and took a graceful bow to round off his set.
Check out a picture of Labrinth on stage at the Summertime Ball 2013 below (Credit: Derek Bremner):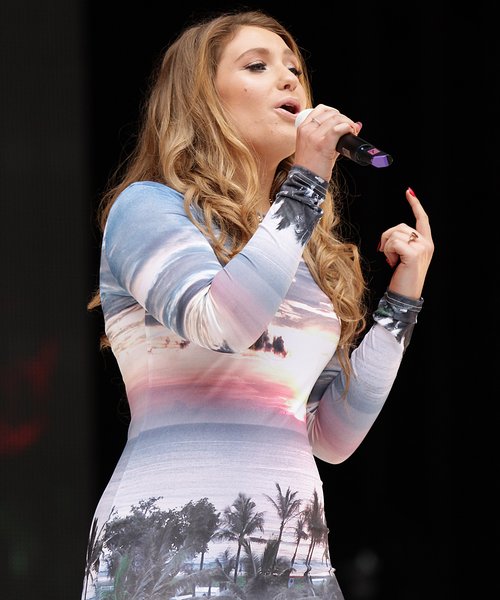 The Song When Everyone Was Fangirling: 'Earthquake' - There wasn't a person in the stadium not rocking out when Labrinth wrapped up his set with one of the biggest dance floor smashes of the past few years... the unforgettable 'Earthquake'. Labrinth... come in!
What Was Labrinth Wearing: The slickly dressed superstar dressed up to the nines for his set in a navy blazer, smart white shirt, beige shinos and some simple black pumps! #dapperdude.
The Most OMG Moment: The Summertime Ball crowd went absolutely crazy when Lab introduced fan-favourite X Factor star Ella Henderson to join him for the duet to end all duets on his HUGE Vodafone Big Top 40 hit 'Beneath Your Beautiful'.
View From The Vine:
Setlist:
'Express Yourself'
'Let The Sun Shine'
'Beneath Your Beautiful' feat. Ella Henderson
'Earthquake'
In A Tweet: "Labrinth's surprise #CapitalSTB duet partner is...*drum roll*... #TheXFactor's Ella Henderson!"
Keep it Capital for all the action from the Summertime Ball.

On Capitalfm.com, we're bringing you all the latest news, gossip, pictures, videos and performances from the event, and stay tuned to our live blog for the best backstage action.

On Twitter, keep it @CapitalOfficial using the hashtag #CapitalSTB and download the Capital App to watch all the live performances.