WATCH: Kelly Clarkson Sings To Some VERY Risqué Tinder Profiles
19 August 2015, 10:24
Kelly Clarkson Sings Tinder Profiles
03:52
The 'Heartbeat Song' star lends her powerhouse vocals to the words of some lonely hearts.
Tinder's been hitting the headlines a LOT lately - and not always for the best reasons (!) - and now Kelly Clarkson's getting in on the action too by helping users find love… by singing along to their profile blurbs!
The 'Invincible' singer was tasked by US chat-show host Jimmy Kimmel to lend her pitch perfect vocal talents to some highly unusual dating profile descriptions from the popular app, and some of them are SERIOUSLY bizarre.
From declaring their love for hairless cats to seeking out someone to take them to a Celine Dion concert (yep, no joke), this has to be seen to be believed.
Hit play on the video above to see Ms. Clarkson in action singing Tinder profiles on Jimmy Kimmel. It's a #RightSwipe from us, Kelly!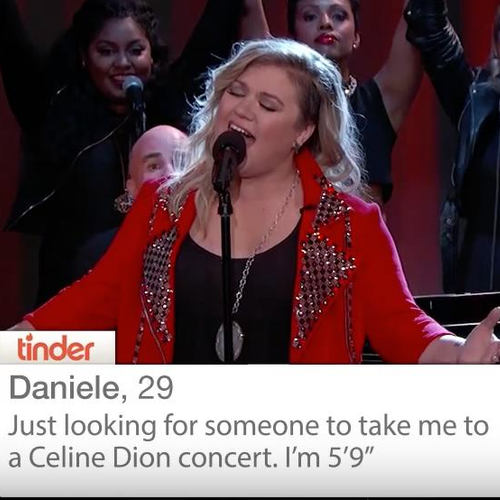 Kelly Clarkson dropped her new album 'Piece By Piece 'earlier this year, featuring hits like 'Heartbeat Song' and 'Invincible'.
You may also like...
WATCH: Kelly Clarkson Makes Her Son's Dream Come True... Meeting Ariana Grande!