Head To Head: Katy Perry Vs. Taylor Swift... And Why Both Ladies Should Join Forces
10 September 2015, 14:40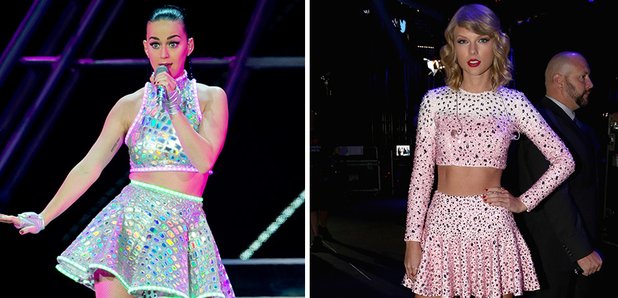 Turns out Katy Perry and Taylor Swift might have more in common than they'd like to admit...
It looks like Taylor Swift is going after Katy Perry's crown for most number one singles from one album - a record Katy currently shares with Michael Jackson. Katy broke records with a whopping five chart topping singles on her album 'Teenage Dream' including 'California Gurls' and 'Firework', however Taylor's album '1989' could be set to overtake Katy's record if her current single success continues.
Despite some recent bad blood (no pun intended) over VMA nominations and past beef over Katy apparently stealing Taylor's dancers, we reckon it's time the two bury the hatchet, seeing as they share so much in common and all...
Both Katy and Taylor got their start in the music industry as song writers before the fame
Katy famously wrote Miley Cyrus' 'Party In The USA' whilst Taylor also wrote a host of songs before releasing a debut album of her own.



Both ladies broke on to the music scene around the same time in 2007
Taylor repped country pop music, whilst Katy produced pop anthems going on to win a host of awards and both became household names.



They've both had roles on the big screen
'The Smurfs Movie' lead role of Smurfette went to Katy Perry whilst Taylor starred in Dr. Seuss favourite 'The Lorax' alongside Zac Efron.



The two have similar taste in guys - well, actually the exact same taste, having both dated singer John Mayer
Plus British boys seem to be rather popular with both ladies...
Both repped flags on stage, and showed some love for the red, white and blue across their bodies.
Although Katy's was the American flag while Taylor opted for the Union Jack, fashion doesn't get much more similar than this!


And not forgetting their oddly similar music videos 'Last Friday Night' and 'You Belong With Me'
As you can see, both Katy and Taylor embrace their geekier sides in the two music videos.

Prom is kind of their thing, after both ladies crashed fans' proms.
Katy and Taylor have attended other people's proms and even gone as far as to accompany fans as their date.
Taylor is officially queen on Instagram and Katy Perry reigns supreme on Twitter
And they've got over 100,000,000 fans between them!

You May Also Like...