Katy Perry Talks Second Marriage As She Flaunts Famous Curves For New Interview
1 August 2012, 18:04
The 'Teenage Dream' singer says she can see a future after her recent divorce from British comedian Russell Brand.
Katy Perry has said she would consider marrying again following her recent divorce from comedian Russell Brand.

The pair split in December, but their relationship officially ended last month when the divorce was processed by a Los Angeles court.

Speaking in a new interview with Elle magazine, Katy kept quiet on her relationship with Russell Brand, but did discuss marrying again in the future.

"I obviously have a lot to say right now…I'm a woman who likes to be courted – strongly," she said. "Never say never, I guess you'd say. I'll let love take the lead on that."

A photo shoot for the magazine sees Katy flaunting her famous curves in a figure-hugging pink dress, which is complimented by striking black and purple hair.

Katy Perry's interview with Elle is accompanied by a new photo shoot: (picture: Elle)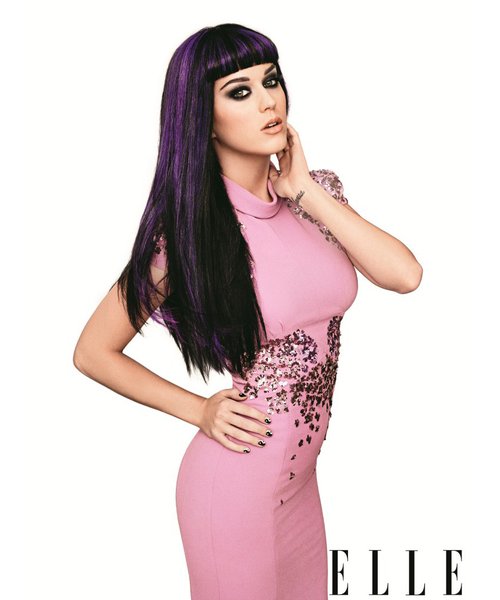 In another black and white picture, the 'Teenage Dream' star is see rocking an optical illusion body-con dress and black high heels.

Elsewhere in the interview, Katy also said she loved her career, but didn't rule against bowing out of the spotlight when the time was right.


"I love what I do, and when I don't love what I do, I'll make a change…I can't be the candy queen forever," she said.

Asked about being a role model for her young fans, Katy said she could not tell people how to live their lives, but admitted was in a position of influence by living her own life with "integrity".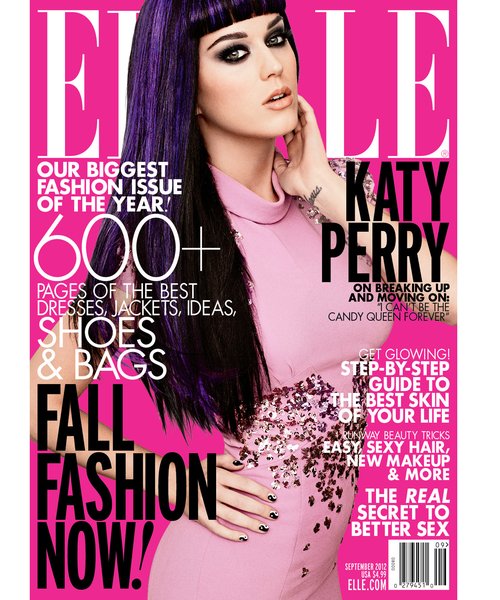 "I have no regrets…I'm not going to be everything to everyone," she said. "I can't tell a person when it's time for them to have sex. Or if they should have a cigarette…But I try to live my life with a lot of integrity, and, hopefully, that sends a message."
Katy Perry's full interview with Elle USA features as part of the magazine's September issue.