Katy Perry New Album To Have "More Mature" Sound, Reveals "Soulmate" Bonnie Mckee
3 July 2013, 10:08 | Updated: 3 July 2013, 14:40
The I Kissed A Girl' star is busy working on her third record and the follow up to 2010's 'Teenage Dream'.
Katy Perry's friend and longtime collaborator Bonnie McKee has been teasing details of the signer's new album promising a "more mature" sound.
The 'Hot N Cold' star has been busy working on her next record for much of 2013 and the her songwriter Bonnie told MTV News about her contributions to the record.
"We were just in [Katy's hometown of] Santa Barbara and we wrote three or four songs, I guess. So I have four songs with her coming out," she confessed.
Speaking about the sound of the record and what fans can expect, she added: "I think it's a little bit more grown up and it's really interesting.
Check out a picture of Katy heading out on her bike this week below: (Picture:INF.Photo)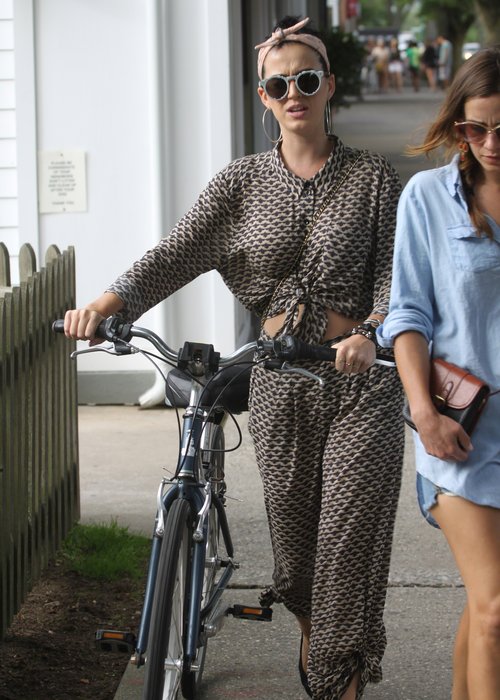 She continued: "Katy and I are really similar. That's kind of how we became friends. We met at Wasteland on Melrose [Avenue in Los Angeles], a thrift store. We just are totally on the same level... We're just soulmates in that way, I guess."
McKee added: "I'm really excited for the world to hear it because she's just... she's taking a new approach. And I don't want to say too much about it, but it's definitely different. It's definitely a little more mature than the 'California Gurls' of yesterday."
This week, Katy was also seen heading back into the studio to continue work on the record in Los Angeles.
Bonnie also unveiled her new single last month - which features cameos from such stars as Katy, Macklemore and Carly Rae Jepsen.