Katy Perry Is Backing The Kardashians ALL The Way: "They're Completely Valid"
7 May 2015, 09:10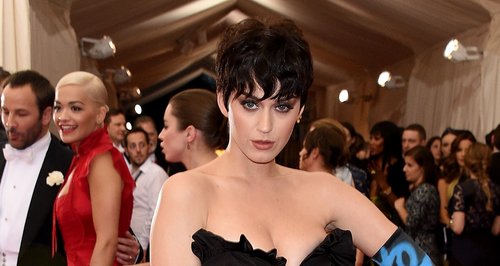 The 'Dark Horse' star opens up on just HOW important America's first family of reality TV are to her.
So it seems Katy Perry is full-on fan-girling about the Kardashians these days, and says she thinks the reality TV family are "completely" valid right now.
From the sound of things Katy's been obsessed with reality TV's most famous family for some time now, and she's now opened up about loving mum Kris Jenner as well as the "wonderfulness" of Bruce Jenner.
"Listen, Kris Jenner is very important to me," Katy told Entertainment Tonight, after showing off her Kris Jenner style pixie cut at the Met Gala Ball this past week. "And that is not sarcastic at all.
"She has a great sense of humour and she's kind of like the mother of everyone," Katy explained. "I was thinking the other day, we've all had our own commentary on the Kardashians, but if the Kardashians hadn't existed, we wouldn't have and the fantastic Bruce Jenner, who is just evolving everybody right now with all of his wonderfulness.
So, the Kardashians in my book are completely valid!" Katy concluded. Hear, hear!
Now ALL we can think about is how we'd feel if Katy ever got a cameo on Keeping With The Kardashians because, let's face it, that could quite possibly end our worlds…
You may also like...
WATCH: Katy Perry's 'This Is How We Do' Music Video