Katy Perry Wraps Up In Oversized Dress And Cloak At Beatles Tribute Event In LA
28 January 2014, 11:14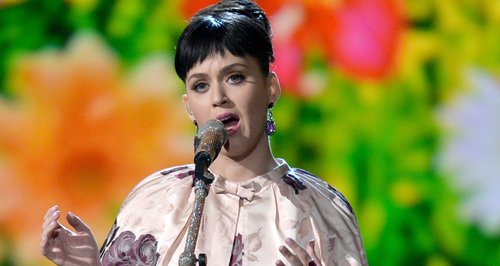 The 'Roar' singer was joined by her boyfriend for the event in honour of the 'Yellow Submarine' four-piece.
Katy Perry showed off a unique new style for her performance at a tribute event held in honour of The Beatles last night (27th January).
Fresh from her performance at the Grammy Awards 2013 on Sunday, Katy took to the stage in Los Angeles for The Night That Changed America event, as part of a Grammys salute to the iconic rock band.
Katy opted for an unusual look while taking to the stage wearing a long rose-patterned pink dress and matching cloak, hiding her figure underneath the heavy look.
The US star was later pictured with fellow performer, and her boyfriend, John Mayer who also spiced things up with a brown cardigan and baggy harem trousers.
'Unconditionally' singer Katy performed new single 'Dark Horse' live at the Grammys at the weekend, as well as memorably catching a wedding bouquet during Macklemore's 'Same Love' performance.