Katy Perry's 'Dark Horse' Music Video To Be "Major Motion Picture"
28 January 2014, 12:26 | Updated: 28 January 2014, 12:27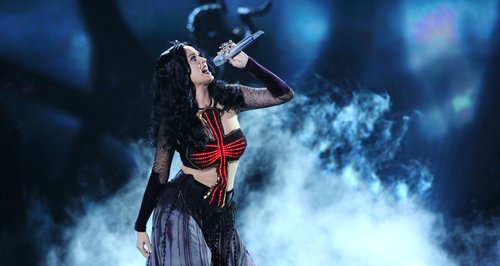 Juicy J has dished the dirt on his collaboration and plans for the promo.
Juicy J has revealed that the music video for Katy Perry's 'Dark Horse' will be a "major motion picture."
The collaboration is the next single to be taken from the female star's latest album 'Prism' and the rapper spoke about the team-up during a chat with Billboard on the red carpet of the Grammy Awards 2013 this weekend.
"I did my verse in the studio, and then [Dr. Luke] called me said, 'Hey man, she wants you to change up a couple bars, so she wants to meet you in the studio'," he explained. "So I jumped in my car, drove fast as I could to get to the studio.
"I got to the studio before she came. I fixed up all the bars, she came in, [and] she loved it. The rest is history. She's super professional. She's a genius."
The video is expected to be unveiled soon and Juicy said fans can expect something really special.

"It's a movie, man. It's a major motion picture," he said. "I can't really tell you because it's definitely going to be a surprise, but I'll tell you this much right here: you've seen her other videos, this one's gonna be just as big. Everything she does is like grade A."
The stars performed the track during the 56th Grammy Awards on Sunday (26th January) night.