Kanye West Delivered A Box Full Of Weird AF Stuff, And It Hints At A HUGE Out-Of-This-World Project
16 March 2017, 13:44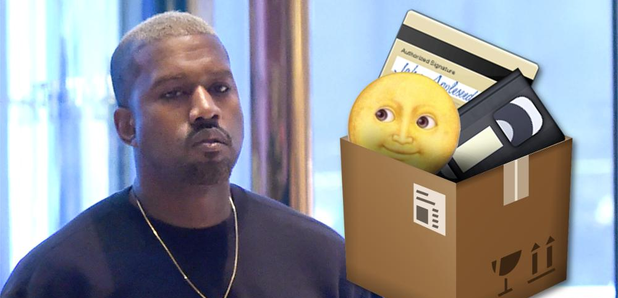 Couldn't he have announced his next project with, like, a Tweet?
When you spend all day Saturday waiting in for a package while all of your mates are out and about having the time of their lives, it's the worst thing known to man. Alternatively, the greatest satisfaction any human can experience is getting a surprise parcel.
So when the staff at MTV received a mysterious cardboard box sent by what seems-to-be Kanye West, it can only be a good thing, right?
Inside the box was another box, which had NASA's logo on it. Weird. But then inside that box was a VHS tape (ask your mum or dad, if you have to) which had "E PLURIBUS UNUM" written on it; which reads as "Out of many, one" in Latin. There was also a white credit card with Kanye West's name, the number 772233688, and the words NASA, PROJECT-10, and a space rock. Hmm...
What was on the video tape? Was it a video of him and Kim Kardashian at Disney World? Was it just a copy of 'Toy Story'? No. It was two hours of static imagery and white noise, like something from The Ring.
If you Google the number on the card, 772233688, it takes you to a website - aptly named www.772233688.com - where the same footage can be found, but this time with the date March 20. Is this the date Kanye's releasing his latest project? On the card were the words 'PROJECT-10'. If you include his seven studio albums, his collaborative project 'Watch the Throne' with Jay Z, and his live album 'Late Orchestration', that's nine albums. And what comes after 9? PROJECT-10, perhaps.
Yeezy going to space? pic.twitter.com/dRCTQ86NMN

— Kazeem Famuyide (@RealLifeKaz) March 15, 2017
Also, on a telephone keypad, if you type in 772233688 you get "SPACED OUT", which would fit with the whole NASA/moon-rock theme, wouldn't it? On the parcel, the return address read as Max Peck at 4800 Oak Grove Drive in Pasadena, California; the location of Jet Propulsion Lab at the California Institute of Technology. As for Max Peck, that was a secret alias used by NASA astronauts.
"772233688" = "Spaced Out" new Kanye project

— Keith (@___KaaaT) March 16, 2017
Despite all of this pretty damn solid evidence that Kanye West could be releasing a tenth album on 20th March with a spacey vibe, the 'Stronger' rapper's representatives have stated that this is a hoax and has nothing to do with Kanye West or his team.
We have no idea what's going on - is Kanye West going to go into space? Is he launching a series of moon boots? Is he just trying to flog all of his old VHS cassettes? Or is this going to be some brand, spanking new Yeezy music?
We'll wait until the 20th to find out.
You May Also Like...