Is Kanye Going To Change The Name Of His Upcoming Album AGAIN?! Kim Seems To Think So...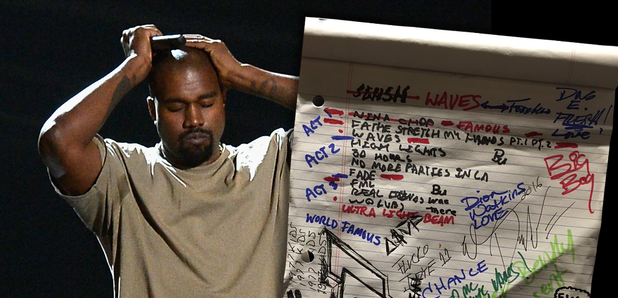 First it was 'So Help Me God'. Then it was 'Swish'. Then it was 'Waves'. But now Kim K's thrown a spanner in the works - and the results are in!
You might not know this, but Kanye's a bit of a loose canon. WE KNOW, RIGHT?! Shocker. So we shouldn't really be surprised when it looks like he's going to change the name of his upcoming album for a THIRD time!
#Waves pic.twitter.com/Azig7aNYOu

— KANYE WEST (@kanyewest) January 27, 2016
Back in 2014 - yes, two years ago - Kanye started work on his album 'So Help Me God'. Then in May 2015, he changed the name to 'Swish'. Then he recently changed it to 'Waves'. We can't keep up with you, Kanye! Just don't change it again, okay? Oh, right. Wait...
His wife, Kim Kardashian West, posted a poll on Twitter asking fans which album title they preferred - and the results are in!
Unfortunately for Kanye, So Help Me God smashed the poll with 46% of the vote - so does this mean that Kanye will be changing his album title back AGAIN?!
WAIT new poll. Which album title do you like best? @kanyewest

— Kim Kardashian West (@KimKardashian) February 1, 2016
At least that's it. He's decided on a - OH REALLY?! He's changed the name again? By the looks of it, 'T.L.O.P.' could be the favourite for the album's name after he Tweeted this. But we're REEEEEEALLY not holding our breathes.
@studio /final verses /new album title T.L.O.P. pic.twitter.com/yXKbFl9w6W

— KANYE WEST (@kanyewest) February 9, 2016
Still, at least whoever manages to figure out what the eff 'T.L.O.P." actually means, you get tickets to Season 3 and a pair of Yeezy's. We're 99% sure it's 'The Love Of Penguin's'. Nailed it.
That's the new album anybody who can figure out the title gets tickets to Season 3 and free Yeezys

— KANYE WEST (@kanyewest) February 9, 2016
And a certain YouTuber made us an offer we probably shouldn't refuse...
@kanyewest Together Let's Over Populate

— Caspar Lee (@Caspar_Lee) February 9, 2016
Which one of the three do you think Kanye will go for? Or will he completely change his mind and add another 32 alternatives to the album title shortlist?
Still, whatever the album's going to be called, at least we know it's made! Kim took North West for the rapper's album reveal, so they could hear it in it's entirety for the first time. But he might decide he doesn't want to release it as an album anymore; instead he wants it to be an interpretive dance. We just don't know with him.

You May Also Like...