Guys, Stop Arsing About! Kanye West Fights Back Taking To Twitter To Tell The Hole Truth
29 January 2016, 12:01 | Updated: 29 January 2016, 12:09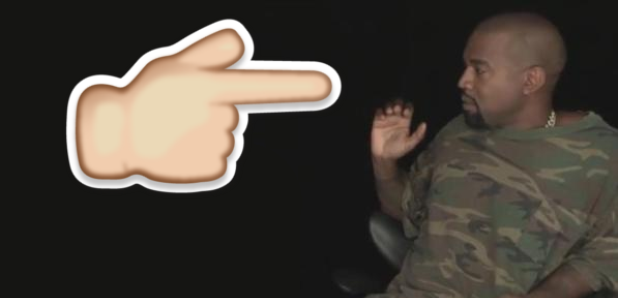 When it comes to Tweets, we all have an itchy trigger finger, but Kanye's fought back after Amber Rose accused him of something pretty major. (Maybe 'trigger finger' was a bad phrase to use!)
If you haven't heard about the Wiz-Kanye-Amber beef, we're not even 100% sure we can still be friends, to be fair. It's ALL over Twitter, after Khalifa suggested that Kanye West had stolen the name of his upcoming album, 'Waves', from another artist.
The pair got into a HUGE row - mainly over each other's music and the odd-Tweet about fashion - but when Amber Rose (aka Kanye's ex, and the mum of Wiz's child) was mentioned, Kanye must have felt pretty bummed out.
We have our fingers on the pulse and checked this feud as often as we could, so you can imagine our faces when Ms Rose decided to put her fingers in the pie, too.
Yup. She said that. Was this her way of telling the 'Stronger' rapper than she was giving him the bum's rush? Maybe she was just fed up of him being a bit of a smart-arse? Either way, we're still trying to put our finger on it.
Awww @kanyewest are u mad I'm not around to play in ur asshole anymore? #FingersInTheBootyAssBitch

— Amber Rose (@DaRealAmberRose) January 27, 2016
We had our fingers crossed that Kanye wouldn't have his head up his arse and that he'd retaliate, rather than just bumming around. He DEFINITELY got a hole-in-one with his latest Tweet.
I'm not into that kind of shit… I like pictures and videos Me and my wife got the kind of love that can turn exes into best friends

— KANYE WEST (@kanyewest) January 29, 2016
Even better, the Internet reared their heads, got their arses in gear and worked their fingers to the bone, creating some of the best reactions we've ever seen.
Ok now back to @kanyewest @DaRealAmberRose @wizkhalifa drama pic.twitter.com/yahkRSUNoQ

— AISLEYNE (@Aisleyne1) January 27, 2016
"Uh Kanye which finger was it?" pic.twitter.com/h0ZnGTutq1

— Jimmy Choo (@_Omghannah) January 28, 2016
Even Trump had 1 finger in Kanye pic.twitter.com/WeSFbAN4Mb

— I Am The Lucid Diva (@mimisparklesLYM) January 27, 2016
You May Also Like...