Justin Timberlake Records New Songs With Rapper Juicy J
17 May 2013, 12:58
The 'SexyBack' star has collaborated with the Three 6 Mafia man on his forthcoming new album.
Justin Timberlake has collaborated with Three 6 Mafia star Juicy J for some new tracks, believed to be for the rap star's his forthcoming new album 'Stay Trippy'.
The artists have already previously teamed up together on the 'Cry Me A River' star's 2006 album 'FutureSex/LoveSounds' for the song 'Chop Me Up'.
Speaking to MTV News about he new team-up, the rapper said: "I've got this record [with Timberlake], but it's not all the way finished yet.
"We did a couple of records [together], but he's still gotta do the vocals, so hopefully, while they're doing the mixing, it'll make the album."
He also revealed that the new music has included the help of producer Timbaland.
"Right now, we're wrapping it up and hopefully it'll definitely make the album because it's a great song," he added.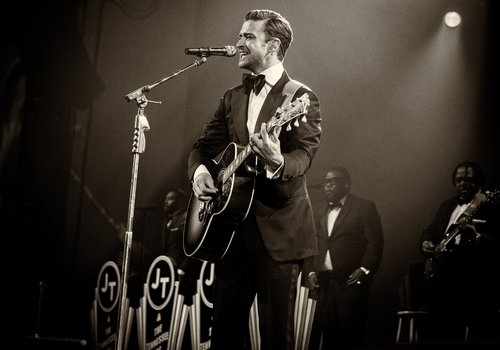 Talking about the experience of working with the singer and actor, he called Justin "super talented" and was blown away by his work ethic.
"Justin is super talented; he can play any type of instrument and he even engineers on the mixing board," he explained. "When I saw that, I was like, 'Wow, that guy really knows music.' Instead of just coming in and laying a verse then leaving, he was involved in everything. He's a producer and songwriter — he's incredible."
Meanwhile, Justin is set to release his new album and the follow-up to 'The 20/20 Experience' in September.