Justin Timberlake And Jimmy Fallon Perform 'The Evolution Of Zone Dancing' – Video
11 September 2013, 14:47 | Updated: 11 September 2013, 18:04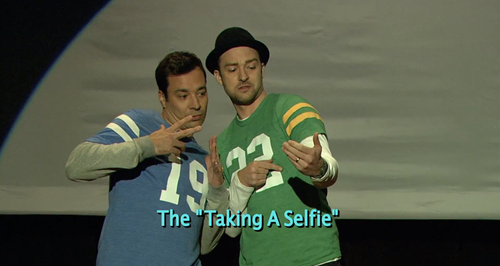 The 'Cry Me A River' singer joined his close friend for a montage piece on the chat show this week.
Justin Timberlake once again reunited with Jimmy Fallon to perform a new routine on his chat show this week.
The 'SexyBack' star and the host have performed a famous 'History Of Rap' routine numerous times before, and this week chose to take a look at NFL celebrations.
The clip is called 'Evolution Of End Zone Dancing and includes the likes of taking a selfie and performing a robot.
Other dances featured include the "butt wax on wax off" and "the old-timey railroad car".
The skit comes to an end when Jimmy starts performing the "Justin Timberlake (from N'Sync)".
Watch the video of Jimmy Fallon and Justin Timberlake below:
Meanwhile, Justin was recently seen in the crowd at Flushing Meadows to watch the tennis US Open final.
The singer congratulated Rafael Nadal on Twitter after he defeated Novak Djokovic in the match.