Jessie J Brought The FIRE To The Jingle Bell Ball With Her AMAZING Set
7 December 2014, 20:53 | Updated: 8 December 2014, 11:46
From the amazing song choices - to those hot pants - there wasn't a dull moment in Jessie's world-class set!
Jessie J is always a favourite at our Balls - and tonight's performance was no exception. Jessie got London's O2 Arena in the party spirit as she came out dressed in a red crop top and hot pants with super long straight locks - and those legs seemed to go on for days!
Jessie opened her show with 'Wild' to the delight of the crowd who greeted her arrival onto the stage with a massive scream. Jessie put on her usual energetic performance as she interacted with Big Sean via a projection on the screen - almost as good as the real thing!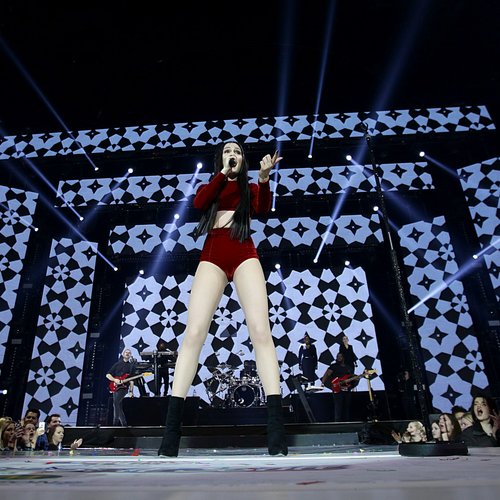 "It's so nice to be back for the day! Thank you guys, that was fun!" Jessie told the crowd before she launched into her second song 'Domino'. Jessie's killer high notes took the roof off the O2 as her #Heartbeats joined in with her as she held her mic stand over the front row - and BOY can that girl sing!
Jessie then brought out one of her newest songs, 'Sweet Talker' as she headed to the front of the catwalk part of the stage to sing to the fans who were lucky enough to get tickets right by the stage.
Jessie started 'Do It Like A Dude' with massive fire cannons and a HUGE stomp from our lady as she literally lit up the stage. Jessie's older tracks went down just as well as her newer material with the Jingle Bell Ball crowd as she upped the sass factor with her vocal riffs.
Miss Jessie J then looked to do some Cossack dancing (random!) before she launched into 'Price Tag' as 16,000 of you went wild in the audience.
Closing her massive six-song set was 'Bang Bang', and Jessie took on Ariana Grande and Nicki Minaj's parts in their absence - and she's got that rap verse down pat!
The fans were LOVING Jessie's stellar set:
jessie j is killing it OMG #JBBStage @CapitalOfficial

— georgia !!! (@fadeouthes) December 7, 2014
Jessie J looks so hot @CapitalOfficial #JBB

— hannah (@iiLoveCherL) December 7, 2014
Jessie j slayed it tonight @CapitalOfficial #CapitalJBB

— ~ Sophia ~ (@simplyySophia) December 7, 2014
Jessie J live is always the best

— hanna (@HannaLewis_) December 7, 2014
@CapitalOfficial Jessie j looks and sounds flawless #JBBStage

— Lois Hill (@loishillxxx) December 7, 2014
Check out Jessie J's full set list from Capital's Jingle Bell Ball with Morrisons below:
'Wild'
'Do It Like A Dude'
'Domino'
'Price Tag'
'Bang Bang'