Jessie J At The iTunes Festival 2014: The Highlights
23 September 2014, 10:48 | Updated: 30 September 2014, 10:34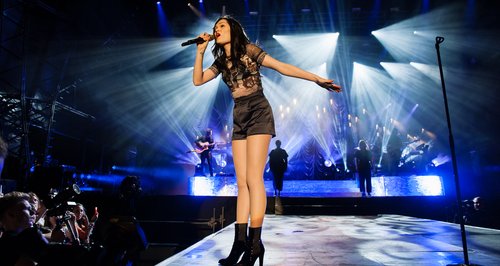 The lady with the MASSIVE voice raised the roof of the Roundhouse with three tracks she had never before perfumed live including 'Burning Up'.
The Roundhouse was THE place to be last night for Jessie J's incredible iTunes Festival performance - including three tracks she had never before performed live.
Complete with glitter cannons, smoke machines and balloons aplenty - and even a VERY exciting guest performance by the one and only Tinie Tempah - the #heartbeats were treated to an incredible vocal performance fro, Jessie.
Heartbeats queue to get front row in Camden's Roundhouse
Jessie chats to Max about playing iTunes Festival and gives us a #exclusive first play of her new single '

Burning Up

', as performed live.

Jessie takes to the stage with a bit of air guitar to kick things off, why not!
Crowd favourite 'Domino' got everyone dancing
Check out Jessie's sexy outfit and those moves as she performs 'It's My Party'
Oh hi there, Tinie! Tinie Tempah joins Jessie on stage to perform 'Sweet Talker' together.
With some signature riffs, 'Bang Bang' brought the roof down
Ready for the new one? Jessie performed 'Burning Up' to her heartbeats and a packed crowd of spectators, WE LOVE IT JESSIE!

Jessie J's iTunes Festival 2014 set list:
1. Sexy Lady
2. Domino
3. It's My Party
4. Sweet Talker (with Tinie Tempah)
5. Nobody's Perfect
6. Wild
7. LaserLight
8. Keep Us Together
9. Big White Room
10. Your Loss I'm Found (First time ever performed live)
11. You Don't Really Know Me
12. Who You Are
13. Do It Like a Dude (with snippet of Niggas in Paris)
14. Ain't Been Done
15. Burnin' Up (First time ever performed live)
16. Price Tag
17. Bang Bang
You may also like...